MYCOVAC-L®
Mycoplasma Gallisepticum Vaccine
For the vaccination of chickens at 6 weeks of age or older as an aid in the prevention and reduction of clinical signs of Mycoplasma gallisepticum (MG).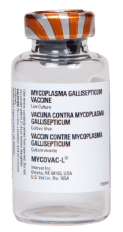 ADVANTAGES:
Highly immunogenic, with very mild reaction
Not pathogenic to turkeys
Does not spread to adjacent chicken houses
No ovarian transmission
Serum will not convert MG plate antigen: easy to distinguish vaccine response from field infection
RESOURCES

To view our complete product lineup, click to view
our POULTRY PRODUCT CATALOG vol. 3.0.