ORALVAX HE®
Hemorrhagic Enteritis Vaccine
For vaccination of healthy turkeys 6 weeks of age or older as an aid in the prevention of hemorrhagic enteritis.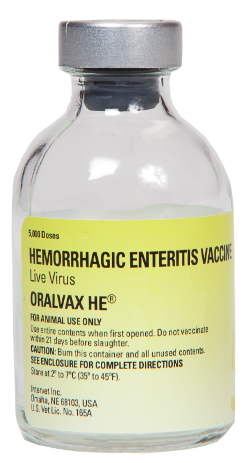 ADVANTAGES:
Safe and efficacious: produced with a stable and avirulent strain of type II avian adenovirus of pheasant origin
Produced under federal quality control standards, ensuring purity and sterility
Consistent high potency titers to ensure protection of vaccinated birds, flock after flock
Recommended administration at 6 weeks of age or older helps assure no maternal antibody interference
RESOURCES

To view our complete product lineup, click to view
our POULTRY PRODUCT CATALOG vol. 3.0.