SAFE-GUARD®
(fenbendazole)
20% Type A Medicated Article
For the removal and control of gastrointestinal worms: round worms, adults and larvae (Ascaridia dissimilis), cecal worms, adults and larvae (Heterakis gallinarum), an important vector of Histomonas meleagridis (Blackhead) in growing turkeys.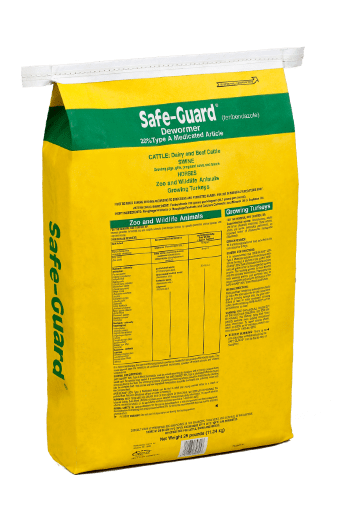 ADVANTAGES:
Proven safety
The only in-feed dewormer approved for use in turkeys
Excellent efficacy against both larval and adult roundworms1
No pre-slaughter withdrawal required. May be used until day of slaughter.2
Consult your veterinarian for assistance in the diagnosis, treatment, and control of parasitism.
RESOURCES

To view our complete product lineup, click to view
our POULTRY PRODUCT CATALOG vol. 3.0.