TREMVAC®-FP-CAV
Avian Encephalomyelitis – Fowl Pox & Chicken Anemia Virus Vaccine
For the vaccination of chickens at 10 to 12 weeks of age against fowl pox and avian encephalomyelitis (AE) in breeders and chicken infectious anemia (CIA) in the progeny of breeder replacements.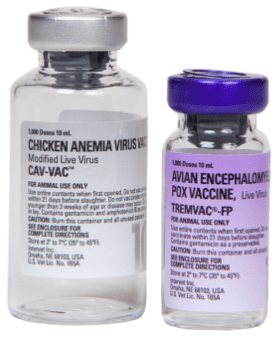 ADVANTAGES:
Excellent protection against infection with AE and fowl pox viruses
The original Calnek strain of AE provides dependable immune response with consistent antibody titer
Demonstrable efficacy with reliable development of "takes" at 7 days post-vaccination
Induces high levels of protective antibodies for long-term protection of parent flocks and their progeny against CIA
Provides uniform flock protection
Combined product reduces vaccination costs
RESOURCES

To view our complete product lineup, click to view
our POULTRY PRODUCT CATALOG vol. 3.0.