UNIVAX® PLUS
Bursal Disease Vaccine
For vaccination of healthy chickens 2 weeks of age or older as an aid in preventing infectious bursal disease (IBD) caused by standard and variant bursal disease viruses.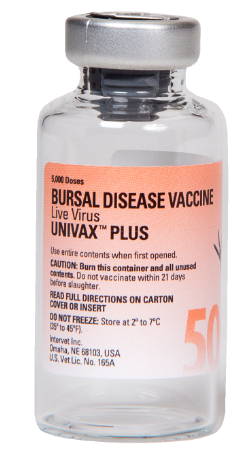 ADVANTAGES:
Contains 2 specially selected intermediate IBD strains, each of which is plaque purified for specificity and consistency
The combined strains provide broad-spectrum protection against a wide variety of economically significant field strains of standard and variant bursal disease viruses
Produces broad protection against standard and variant IBD strains without destroying future immunization capabilities
Highly antigenic
Mild reacting, safe for use in broilers, pullets, breeders
RESOURCES

To view our complete product lineup, click to view
our POULTRY PRODUCT CATALOG vol. 3.0.