Advocating for Ag: Sustainability, Animal Welfare and Antibiotic Stewardship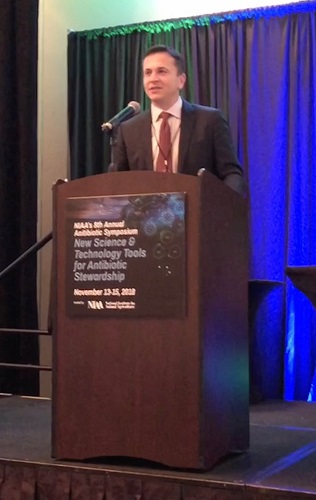 The Veterinary & Consumer Affairs (V & CA) Team recently wrapped up a busy week advocating for sustainability in agriculture, animal welfare and antibiotic stewardship at three industry gatherings.
Judson Vasconcelos, D.V.M., Ph.D., V & CA Team lead, attended the National Institute for Animal Agriculture's Annual Antibiotic Symposium in Overland Park, Kan., Nov. 13-15. Stakeholders from all sectors of the animal food production industry and partners in public health joined veterinarians, researchers and experts in public health to discuss new and developing science on one of the most important topics in health today. Dr. Vasconcelos participated in a panel discussion about how scientific advantages and data can help to achieve shared goals of antimicrobial stewardship.
"We think it's important to be part of conversations around antibiotic stewardship," he says. "This is a top-of-mind matter for our customers to ensure animal welfare and our company is committed to ensuring both antibiotic stewardship and animal welfare. We continue to invest in solutions to treat, prevent and control bacterial infections in animals to keep them healthy by looking into novel vaccines, non-shared class antibiotics and are also engaged in identifying alternatives to conventional antibiotics."
Days later, the V & CA Team participated in the American Veterinary Medical Association Animal Welfare Assessment Contest in Fort Collins, Colo. An educational tool for enhancing the understanding and awareness of welfare issues affecting animals, the contest teaches ethical reasoning, encourages objective assessment of animal welfare on the basis of scientific theory and data, promotes critical thinking and improves communication skills. Students are afforded an opportunity to practice their assessment skills and present their findings to an expert panel of scientists and veterinarians.
"The content has three divisions – undergraduate, veterinary and graduate students – and challenges them to analyze the welfare of various types of animals presented in comparative scenarios," Angela Baysinger, D.V.M., V&CA Team animal welfare lead, says. "They determine the welfare of animals in various scenarios and present their decision to the judges. As a premier partner of the AVMA Animal Welfare Assessment Contest, our company is pleased to help fund these opportunities for students to think critically and apply their learnings to real-life scenarios."
Finally, the V & CA Team wrapped up the week at the Sustainable Ag Summit in Denver, Colo. The summit is an annual gathering for major food companies, government agencies, academics, conservation group and farmers committed to advancing a coordinated, comprehensive approach to driving change in agriculture sustainability.
Dr. Baysinger and Jessica Finck, Ph.D., Corporate and Diversified Accounts Team, participated in a panel discussion entitled, "Advancing Animal Welfare in a Skeptical Consumer Environment."
"Sustainability is at the forefront of discussions in the agriculture industry," Dr. Finck says. "Often, animal health and welfare are measurements of sustainability success and as a company, we want to help shape the conversation so others understand how important it is for producers to have the freedom to operate and the ability to use animal health products responsibly. Animal health and welfare depends on this as much as the sustainability of the entire agriculture industry."