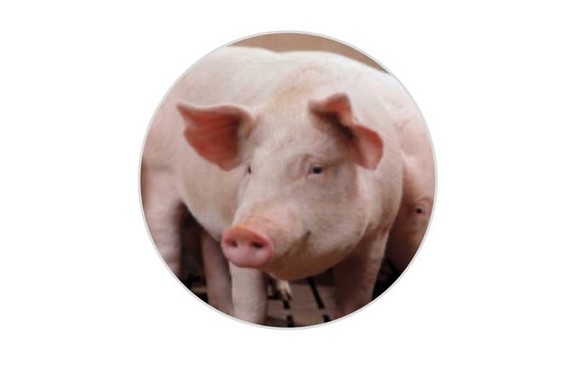 Assessing Farm Animal Welfare in the Supply Chain
Annual Benchmark Highlights Progress, Challenges
The supply chain is growing more inter-connected as brands align their customer-facing stories with what's happening on the farm. Specifically, documented animal welfare practices are becoming a must – and are being well-monitored for effectiveness.
One of the organizations analyzing industry progress is the Business Benchmark on Farm Animal Welfare (BBFAW), which ranks the world's leading food companies on animal welfare policies, practices and performance based on publicly available information.
In its seventh annual global assessment, BBFAW reports that roughly half of the companies ranked provided "little or no evidence" of adopting farm animal policies, while 63 companies showed "some evidence" of implementation.1 That leaves less than 20 companies ranked as making progress or having fully integrated animal welfare strategies. Among the report's key findings are:1
Farm animal welfare is now a leadership issue, with strong commercial drivers for action. The report cites that companies' primary drivers to focus on farm animal welfare are consumer interest, risk management and business opportunities.
Companies are improving their management practices, processes and reporting on farm animal welfare.
Close confinement systems in which the animals are raised are a key issue.
Reporting on farm animal welfare performance is lagging or not transparent.
Lack of knowledge (e.g., on the wider business and marketing benefits of higher welfare) and consumer willingness to pay are the key barriers to progress.
The full list of rankings indicate that notable companies like Nestlé,2 McDonald's3 and Panera Bread4 are ranked Tier 3,1 which means the animal welfare policies are "established, but have work to be done." Others who are considered "leaders" at the top of the list include five international organizations: Coop Group,5 Cranswick,6 Marks and Spencer,7 Noble Foods8 and Waitrose.9
Still, some companies are showing upward movement. Despite more stringent scoring requirements, 19 companies have moved up at least one tier in scoring1 and 17 companies are considered to have integrated farm animal welfare into their business strategies,1 including Cargill,10 Tyson Foods11 and Kroger.12 Continuous improvement is the goal for U.S. farmers and ranchers. The report also highlights:1
43% of companies have board or senior management oversight of farm animal welfare
71% of companies publish formal improvement objectives for farm animal welfare
62% are reporting some performance data
82% of the 55 food companies that have been a part of the assessment since its inception have moved up at least one tier
Continuing to ensure on-farm practices align with what's best for the animal and the food supply is critical for all stakeholders along the supply chain and requires a concerted effort among each segment to be successful. It's a core focus for Merck Animal Health.
"We agree that animals should be raised free from hunger and thirst, discomfort, distress and pain, injury or disease," said Angela Baysinger, DVM, M.S., animal welfare lead at Merck Animal Health. "As a stakeholder in food animal farming, Merck Animal Health works with farmers to follow best practices, and we are committed to finding new ways to help improve the comfort, care and well-being of all major livestock species."
In 2018 Merck Animal Health introduced the first and only FDA-approved drug for controlling pain in cattle. The drug is labeled for pain due to foot rot and fever for bovine respiratory disease. In addition, the company continues to invest in technologies and solutions that provide prevention and less invasive treatment for animals.
BBFAW was established in 2012 by founding partners and animal rights groups Compassion in World Farming and World Animal Protection.
Check out this Merck Animal Health Infographic on Animal Comfort and Safety.
1Amos, N. and Sullivan, R. The Business Benchmark on Farm Animal Welfare Report 2018. https://www.worldanimalprotection.org/sites/default/files/int_files/bbfaw_report_2018_0.pdf. Accessed May 1, 2019.
2 Nestlé. https://www.nestle.com/asset-library/documents/creating%20shared%20value/rural_development/nestle-commitment-farm-animal-welfare.pdf
3 McDonald's. https://corporate.mcdonalds.com/corpmcd/scale-for-good/our-food/animal-health-and-welfare.html.
4 Panera Bread. https://www.panerabread.com/responsibility
5 Coop Group. https://www.actions-not-words.ch/en/sustainability-topics/animal-welfare.html
6 Cranswick. https://cranswick.plc.uk/taking-responsibility/animal-welfare
7 Marks and Spencer. https://corporate.marksandspencer.com/plan-a/food-and-household/productstandards/raw-materials-commodities-and-ingredients/beef-lamb-venison#187c27d f83704749ac9fd02b03f292e
8 Noble Foods. https://www.noblefoods.co.uk/wp-content/uploads/2018/04/ANIMAL-WELFAREPOLICY-USAUPDATED-2017.pdf
9 Waitrose. https://www.waitrose.com/home/inspiration/about_waitrose/the_waitrose_way/waitrose_animal_welfarecommitments.html
10 Cargill. https://www.cargill.com/meat-poultry/animal-welfare-at-cargill
11 Tyson Foods. https://www.tysonfoods.com/sustainability/animal-well-being/research
12 Kroger. https://www.thekrogerco.com/wp-content/uploads/2018/07/The-Kroger-Co_AnimalWelfarePolicy_2018-July.pdf