SAFE-GUARD (fenbendazole) bites back against the vicious parasites you're most worried about.
SAFE-GUARD excels at taking care of tough internal parasites like Cooperia, Ostertagia, Nematodirus and more.
SAFE-GUARD: Your Best Defense
SAFE-GUARD, powered by fenbendazole, works differently than other dewormers. Safe and proven, it goes straight to the gut, killing worms where they live in as little as one day.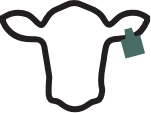 EFFECTIVE
Results prove 90% reduction in fecal egg counts.¹

FAST-ACTING
One day vs 7-14 days for competing dewormers.²

CONVENIENT
Administer SAFE-GUARD chute-side or in the pasture.

PROVEN
Shown to increase weaning weight by 28.9 lbs. per head.²
The Fenbendazole difference
Fun fact: Parasites can't excrete fenbendazole. This means even cattle that ingest small amounts of SAFE-GUARD feed products over the course of a few feedings quickly build up to a lethal dose for any parasites that may be present. So even if you opt for one of SAFE-GUARD's non-handling formulations, you can still be sure cattle are receiving an effective dose.
What worms does SAFE-GUARD kill?
Proven SAFE-GUARD helps you get the most out of your cattle by controlling the species and stages of these performance-robbing parasites.
| | |
| --- | --- |
| BANKRUPT WORM(T. colubriformis)Adult • L4BANKRUPT WORM(T. colubriformis) | Adult • L4 |
| BARBER'S POLE WORM(Haemonchus spp.) | Adult • L4 |
| BROWN STOMACH WORM(Ostertagia ostertagi) | Adult |
| HOOKWORM(Bunostomum phlebotomum) | Adult • L4 |
| LUNGWORM(Dictyocaulus viviparus) | Adult |
| NODULAR WORMS(Oesophagostomum radiatum) | Adult • L4 |
| SMALL INTESTINE WORM(Cooperia punctata, C. oncophora) | Adult • L4 |
| SMALL STOMACH WORM(Trichostrongylus axei) | Adult • L4 |
| THREAD-NECKED WORM(Nematodirus helvetianus) | Adult • L4 |
Determining success with a FECRT.
Fecal egg count reduction tests (FECRTs) are the only way to determine if the current deworming program is working. After deworming, you should see a 90%+ reduction in fecal egg count. If these results are not achieved, the reason why should be investigated with a veterinarian to determine if improper dosing and/or resistance has affected the outcome.
For all formulations of SAFE-GUARD, the average FECRT efficacy is 91-98.7%.3
A Veterinarian's take on SAFE-GUARD.
When cattlemen come calling with parasite issues, Louisiana's Dr. Paul Whittington has one recommendation: SAFE-GUARD from Merck Animal Health. Hear him explain why.
Flexibility You Can Count On
SAFE-GUARD's unmatched convenience offers deworming options chute-side or in the pasture — and it offers a consistent 10-to-1 return on investment.⁵
Defend your bottom line.
Proper parasite management is the cornerstone of your animal health program. Learn how SAFE-GUARD accomplishes season-long control.

Sign up to receive cattle health management insights, industry news and more sent straight to your inbox.
1Coles, et. al. WAAVP methods for the detection of anthelmintic resistance in nematodes of veterinary importance.
2Data on file, Merck Animal Health.
3Merck Animal Health National FECRT Database.
4The effect of parasite control treatment on animal performance and carcass characteristics of feedlot steers and heifers. Fort Dodge Animal Health, 2007.
IMPORTANT SAFETY INFORMATION | RESIDUE WARNINGS
SAFE-GUARD Paste and Suspension: cattle must not be slaughtered within 8 days following last treatment; Mineral and medicated feed products: 13 days; EN-PRO-AL Molasses Block: 11 days; Protein Block: 16 days; For dairy cattle, the milk discard time is zero hours. A withdrawal period has not been established for this product in pre-ruminating calves. Do not use in calves to be processed for veal. For complete information, refer to the product label.