Parasite control is an ongoing battle. SAFE-GUARD (fenbendazole) is ready.
When it comes to deworming cattle, choose SAFE-GUARD to help get the most from your herd. SAFE-GUARD features broad-spectrum protection against the most concerning internal parasites, including Ostertagia, Cooperia and more.
Deworming cattle to stay ahead of profit-eating parasites.
The signs of a severe parasite infection are easy to spot. But it's important to keep an eye out for the less severe signs that can indicate the start of a problem, so you can take swift action.
SIGNS TO WATCH OUT FOR: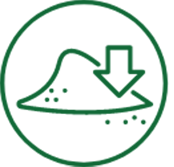 Reduced feed intake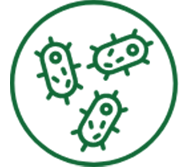 Increased incidence of disease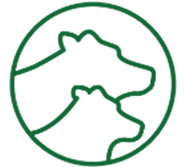 Decreased reproductive performance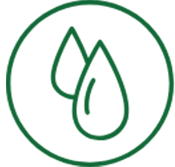 Lower milk production
SAFE-GUARD is a fast-acting dewormer that goes straight to the gut, killing worms where they live.
Keep cattle protected in the pasture.
Parasites shed by cattle last season are often the source of infection for cattle this season. Cleaning up your pasture starts with deworming cattle to remove worms and stop egg shedding back onto the grass.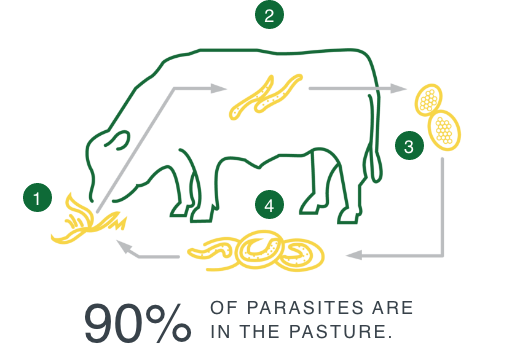 INTERNAL PARASITE LIFECYCLE
Cattle ingest infective larvae (L3)
Immature worms move to the gut where they mature; adult worms lay eggs
Eggs pass through feces back onto the grass where they become larvae and continue to mature (L1, L2)
Infective larvae (L3) are mobile and move away from manure pats to grass to be consumed\
SAFE-GUARD Feed Formulations are up for the job.
All formulations of SAFE-GUARD are powered by fenbendazole. But with feed formulations, how can you be sure cattle are receiving the proper dose? It's called the cumulative dose effect.
Fenbendazole builds up in the fat tissue of parasites.3 Even cattle that ingest small amounts of SAFE-GUARD over the course of a few feedings will quickly build up to a dose that is lethal to internal parasites.
See all the reasons why feed formulations work, and work well.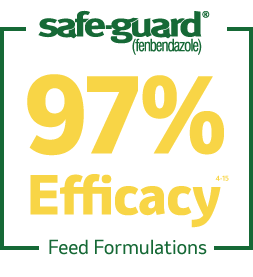 The convenient way to get deworming right.
With SAFE-GUARD's flexible feed formulations, there's no need to run them through the chute to keep them protected from ROI-eating parasites. That makes it easier to administer an extra dose between gatherings, which may be required to break the parasite lifecycle and keep cattle clean all season long.
A veterinarian's take.
Parasites can significantly weigh down your herd. Louisiana veterinarian Dr. Paul Whittington explains how they impact animal health and performance.
The SAFE-GUARD Guarantee.
One way you can check that your parasite management program is working is through a fecal egg count reduction test (FECRT). A FECRT will not only tell you which parasites you're dealing with, but also if they're responding to your program. With Safe-Guard, you can expect to see a 90% reduction in fecal egg count after just 14 days.1
Deworming Cattle: Schedule and Time Matter
When it comes to deworming cattle, schedule based on your operation type and location, as well as the parasite life cycle. Doing so reduces the parasite burden both in your herd and on the pasture.
Select your operation type to see the recommended guidelines.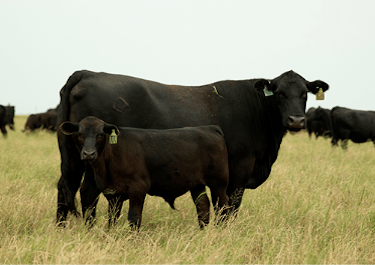 COW/CALF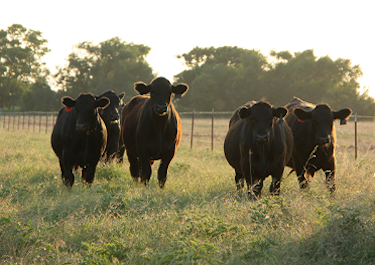 STOCKER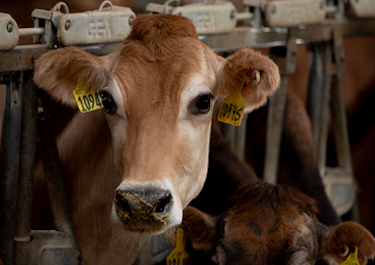 DAIRY
Treatment Schedule
Nail the timing of your treatments with
SAFE-GUARD's simple scheduling tool.
Treatment Schedule
Determine how much of your preferred
formulation you'll need to effectively treat your
herd with the SAFE-GUARD dosage calculator.
1Smith RA, et al. Pasture deworming and (or) subsequent feedlot deworming with fenbendazole. I. Effects on grazing performance, feedlot performance and carcass traits of yearling steers. The Bovine Practitioner. 2000 May 1; 34(2), 104-114.
2Safe-Guard/Panacur Deworming Strategies for Dairy Cattle. Dairy Monograph. Intervet.
3Vercruysse J, Claerebout E. Mechanisms of actions of anthelmintics. Merck Veterinary Manual Online. https://www.merckvetmanual.com/pharmacology/anthelmintics/mechanisms-of-action-of-anthelmintics. Accessed February 2, 2021.
4Intervet Safeguard Technical Bulletin Part Number A640416 2001.
5Hoechst-Roussel Agri-Vet Company Study Number A640468.
6Blagburn BL, et al. Efficacy of fenbendazole medicated feed blocks against gastrointestinal nematode infections in calves. Am J Vet Res. 1987;48(6):1017-1019.
7Blagburn BL, et al. Evaluation of three formulations of fenbendazole (10% suspension, .5% pellets and 20% premix) against nematode infections in cattle. Am J Vet Res. 1986;47(3):534-536.
8Saad MB, et al. Efficacy of Fenbendazole Against Adult Dictyocaulus viviparus in Experimentally Infect Calves. Am J Vet Res. 1977;38(9):1427-1428.
9Crowley JW, et al. Further Controlled Evaluations of Fenbendazole as a Bovine Anthelmentic. Am J Vet Res. 1977;38(5):689-692.
10Bliss DH. Comparative Evaluation of Fenbendazole (5mg/kg) administered either via a free-choice mineral or in a 10% oral suspension and ivermectin (100 or 200 mcg/kg) administered subcutaneous.
11Miller JE. Efficacy of Safeguard En-Pro-Al Molasses Deworming Supplement Blocks Against Inhibited Larvae of Ostertagia ostertagia. Southern Conference on Animal Parasites. 1989. March 26-28. Abstract #75.
12HRVET Study No 97-0020.
13Smith SJ, et al. Effects of Safeguard free choice protein blocks on trichostrongyle nematodes in pastured cattle from eastern South Dakota. Proceedings of the South Dakota Academy of Science. 2012;91.
14Williams JC, et al. Efficacy of a spring fenbendazole treatment program to reduce numbers of Ostertagia ostertagi inhibited larvae in beef stocker cattle. Vet Parasitol. 1995;59(2):127-137.
15Reinemeyer CR, et al. Larvicidal efficacy of three formulations of fenbendazole against experimentally-induced gastrointestinal nematode infections in cattle. Intervet Research Report.
16Merck Animal Health National FECRT Database.

Sign up to receive cattle health management insights, industry news and more sent straight to your inbox.