Crossroads
When parasite resistance came calling, Eddie Parker turned to a trusted partner
With years of historic drought in the rear view, the scene at Parker Angus Ranch is even sweeter.
Fields of tall-grass prairie dance in the breeze, while crickets sing softly and birds chime in from a distance. Rancher Eddie Parker pulls his pickup to a stop and greets the Angus cows grazing nearby.
In southern Oklahoma, just miles from the Texas state line, the Parker family has established a peaceful landscape for raising registered Angus cattle and preserving natural grasslands for peak performance.
"We are very pleased with where our program is today, but in the registered business, you can't sit back on your laurels," Parker says of the nearly 40-year-old operation. "You have to be moving forward genetically and environmentally."
It hasn't been easy. History has proven there are many challenges associated with ranching in this part of the country. Limited moisture and the naturally arid landscape are always cause for concern, but for now, there's reason to be optimistic.
Leaned against the hood of the truck, with a growing audience of black cattle in the background, Parker describes his ultimate goal in beef cattle production: to raise high-quality Angus bulls for the commercial cattleman.
"Our primary bull that we try to produce is a spread bull," Parker explains. "We want light birthweight bulls, most of them are low enough that you can breed your heifers to them. Yet, enough growth that as the bulls mature, you can roll them right into your cow herd and never give up any growth, weaning or yearling."
Parker Ranch near Waurika, Okla., is built on nearly 6,000 acres, and an innate focus on stewardship — with the mission to leave both the cattle and the land in better condition for future generations.
Eddie and his wife, Karen, purchased their first 100 acres of land in Jefferson County, Okla., while they were living in Kansas City, Mo. The newlyweds lived in the city for a while after graduating from Oklahoma State University, but they knew their future was back home on Oklahoma soil. Eventually, they returned to their home state.
"We both quit our jobs the same month and decided to start ranching [full time]. My Dad thought we had lost our minds," Parker said with deep-felt laughter.
It was the mid-1970s, and the couple leased about 2,000 acres, expanded their herd with four different breeds and officially established the Parker Ranch.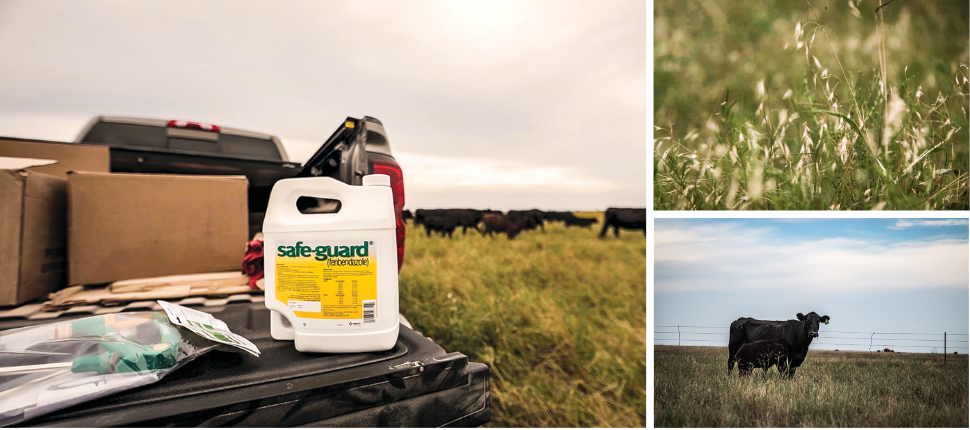 Navigating the highs and lows of the cattle industry, they experienced much change during the initial decades on the operation. In the early 1990s, they were faced with the beginning stages of a severe drought and were forced to make some difficult decisions about the ranch's future. The result was a herd dispersion of all cattle except Angus.
Today, they enlist the latest technology, including artificial insemination (AI), to keep herd genetics moving forward. And, Parker explains, caring for the cattle also involves caring for the land and soil. Any ranch investment in fertilizer to improve the forage must be matched with a deworming program to ensure maximum efficiency.
"It's kind of a false economy to spend so much money spraying for weeds and fertilizing to get good forage, and not deworm your cows on a regular basis and make sure you get a good kill on the worms."
Commitment to Health
Parker admits that a solid genetic foundation can only go so far toward producing high-functioning cattle. A holistic approach to herd health and nutrition is critical to ensuring the animals reach their true genetic potential.
"There's no point in investing thousands of dollars in the best genetics you can find if you don't also emphasize the herd health program and making sure you can utilize those genetics by having a healthy, parasite-free animal," he says.
The region's improving drought conditions and added moisture also brought with it greater concern over parasite populations. Parker initially relied on a deworming program to protect his cattle, but started noticing resistance issues despite better grazing conditions and nutrition.
"We brought all the cows in, re-wormed them with SAFE-GUARD, and in 30 days, you wouldn't have known them. They bounced back like you'd just put them on feed. Switching to SAFE-GUARD is one of the best things we ever did."

— Eddie Parker, Parker Ranch, Oklahoma
To investigate the problem, he reached out to his area Merck Animal Health representative, who offered to conduct a fecal test to determine the effectiveness of the competing dewormer. The results confirmed Parker's suspicions, indicating the other product wasn't working.
"We brought all those cows in, re-wormed them with SAFE-GUARD, and in 30 days, you wouldn't have known them. They bounced back like you'd just put them on feed," Parker said. "Switching to SAFE-GUARD is one of the best things we ever did."
They administer the SAFE-GUARD dewormer twice per year, once during the AI process and again in the fall when calves are weaned. Parker says they've experienced some of the region's wettest years without any worm issues.
"We haven't had any problems since we switched to SAFE-GUARD," Parker said. "It's critical in making sure that these cattle are able to operate up to their genetic potential. When we breed efficiency into a cow, if she has a worm burden, she's never going to be as efficient as she's genetically bred to be."
Parker Ranch is now branching into the second generation, as daughter and son-in-law, Ruslyn and Casey Ramsey, help to ensure Parker Cattle have the best health program.
"We want to send out animals that have no parasites, no diseases and we're not bringing anything in that herd that's not wanted or needed," he says.