Time After Time
Kansas veterinarian and cattleman keeps cattle healthy with SAFE-GUARD®.
Some 10,000 years ago, in the untouched region of what is now the Flint Hills of eastern Kansas, buffalo herds grazed the nutritious grassland to put on a thick fat-cover before moving westto find winter shelter.
In the modern age, the same premise holds true.
Waves of bluestem grass ripple in the wind as Dr. Roger Bechtel, a cattleman and veterinarian, surveys his cow herd near Eureka, Kan. He explains that the same nutrient-rich hills provide outstanding gains for beef cattle. It's why Bechtel Ranch receives about 3,000 head for custom-grazing each summer.
"The ecosystem of the Flint Hills has been here for thousands and thousands of years," Dr. Bechtel says. "We are merely stewards of it out here, trying to maintain as good of care as possible, make a living if we can from it, but still be mindful that it is a fragile system. So, that's always in the back of our mind, to take care of our grass first, and the grass will be there for future years."
During the fall and winter months, Dr. Bechtel grazes his own smaller herd of about 100 commercial cows, allowing the grass to regenerate from the summer's higher stocking rates.
Caring for livestock and the land is a passion he inherited from his father. From the time he was old enough to remember, his family has raised cattle. It was Dr. Bechtel's relationship with animals that led him to a 40-year career as a veterinarian.
"I wanted to be able to treat them and help them — it's a way of life for me."
No Time to Waste
In the springtime, as the pastures begin to green, traffic intensifies on the dusty road to the Bechtel Ranch.
From mid-April until about the first of May, Dr. Bechtel says trucks will deliver up to 500 head per day for summer grazing. They come to the Flint Hills from other areas of Kansas, Missouri, Nebraska, Oklahoma or Texas. The ranchers must move fast.
Stocker cattle typically stay on the pasture for around 100-110 days, and they'll leave the ranch several hundred pounds heavier than when they arrived. On average, the animals need to gain around two pounds per head, per day.
"They come in pre-conditioned because we want them eating as quickly as they get off the trucks," he says. "We will immediately have them on grass and start them gaining as fast as we can."
As a veterinarian, Dr. Bechtel takes a keen interest in the health history of the animals and makes recommendations to his stocker clients and their respective veterinary providers.
Topping the list: SAFE-GUARD dewormer from Merck Animal Health.
"We have been using SAFE-GUARD ever since it came out," he says. "The species of worms that give us the most problems out here in ranching country are the ones that SAFE-GUARD directly addresses. It is a very efficient dewormer."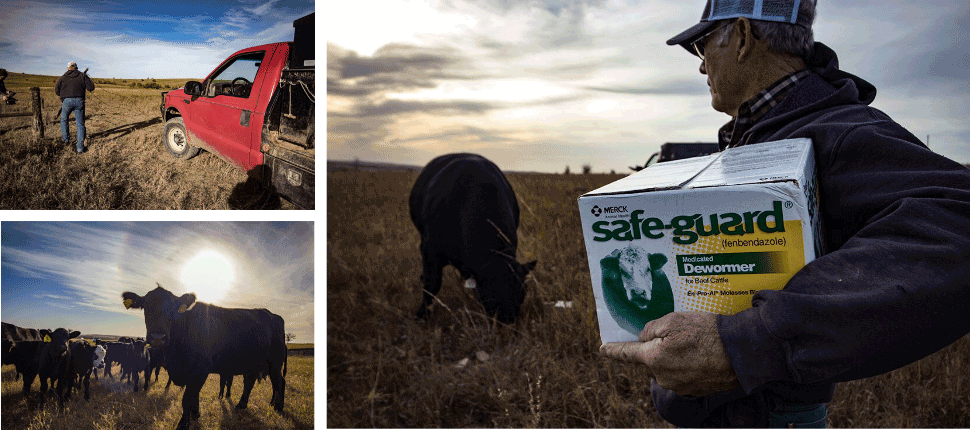 "We have been using SAFE-GUARD ever since it came out. The species of worms that give us the most problems out here in ranching country are the ones that SAFE-GUARD directly addresses. It is a very efficient dewormer."

— Roger Bechtel, Bechtel Ranch, Kansas
Dependable Results
Dr. Bechtel can fully endorse SAFE-GUARD because he's seen the product work in his own cattle. Preserving genetics his father established nearly 60 years ago, he has trusted the dewormer to protect herd health.
"It is part of our deworming program on a regular and routine basis, whether it be the cows, the calves or the bulls," Dr. Bechtel says. "We sometimes carry our calves into the yearling stage, and we make sure that they are dewormed with SAFE-GUARD."
The wide variety of SAFE-GUARD formulations makes administering dewormer easy for any operation, Dr. Bechtel says. Whether it's the primary drench application, or cubes,mineral or other formulations, he says ranchers can be assured the cattle are getting the proper dosage and desired response.
"It does an excellent job out here for us," Dr. Bechtel says. "I also believe that by giving those orally, you're putting them directly into the intestinal tract much quicker. You're getting a higher kill rate."
And it's a safe, affordable alternative, he adds.
"For some of these guys, they may not be close to a set of working pens with a working chute. For them, there are granules, the pellets that they can feed to them easily, or put out a lick block for them. It's a good value for their dollar," Dr. Bechtel says. "Whenever we had situations that required a dependable dewormer, SAFE-GUARD was at the top of the list."
Battle Resistance
"From a veterinary standpoint, I've recommended the usage of SAFE-GUARD over the years because I noticed resistance issues possibly building up with pour-ons and injectables," Dr. Bechtel explains.* "There hasn't been anything out here in the cattle industry that leads meto believe SAFE-GUARD is building any resistance."
SAFE-GUARD's dependability and reliability are unmatched by any other dewormer, Dr. Bechtel says, pointing to years of studies comparing the product with competitors.
"That's why I can wholeheartedly recommend it for myself or for producers," he says. "It's going to be at the top of the curve for you. It is as economical as you are going to get."
Whenever he has a customer ask him about another dewormer that's just come out on the market, he gives them a simple answer:
"I will remind them that years ago SAFE-GUARD came out with dependable results, and it's still doing the same job for us, cost-wise," Dr. Bechtel says. "They know what they are getting, time after time."