The fast BRD treatment that lasts.
Stressors that trigger bovine respiratory disease (BRD) are all around, and this disease is no joke.
It costs beef producers $900 million every year, not to mention a whole lot of peace of mind. So when you spot BRD, don't wait. Go with the fast that lasts.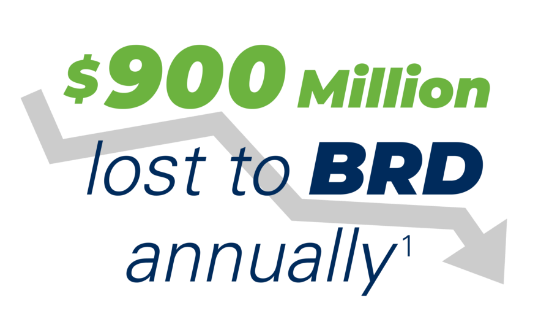 Why ZUPREVO®?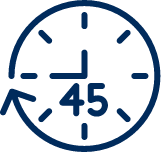 ABSORBS FAST
Reaches peak plasma levels just 45 minutes after administration.2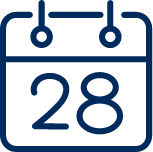 LASTS LONG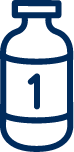 ONE DOSE
One low-volume dose of 1 mL/100 lbs. means less handling and more doses per bottle.
A tradition of healthy cattle.
In this Cattleman to Cattleman segment, see the different strategies one family-run feedyard in southwest Kansas implements to help manage their herd's risk of BRD. One of their strategies? Long-lasting ZUPREVO, of course.
BRD in your herd? Don't wait.
When bovine respiratory disease takes hold, it's important to act quickly and choose a treatment that you trust. See the two crucial factors that make ZUPREVO the powerful choice to handle BRD in your herd.
A treatment veterinarians trust.
Hear why a veterinarian with more than three decades of experience considers ZUPREVO his go-to treatment for fast-acting, long-lasting BRD treatment.
ZUPREVO outlasts the competition.
Product label comparisons show that ZUPREVO remains in the lungs longer than competing products to fight Mannheima haemolytica, Pasteurella multocida and Histophilus somni.
Comparison of days above MIC90 in lung tissue*2,3,4,5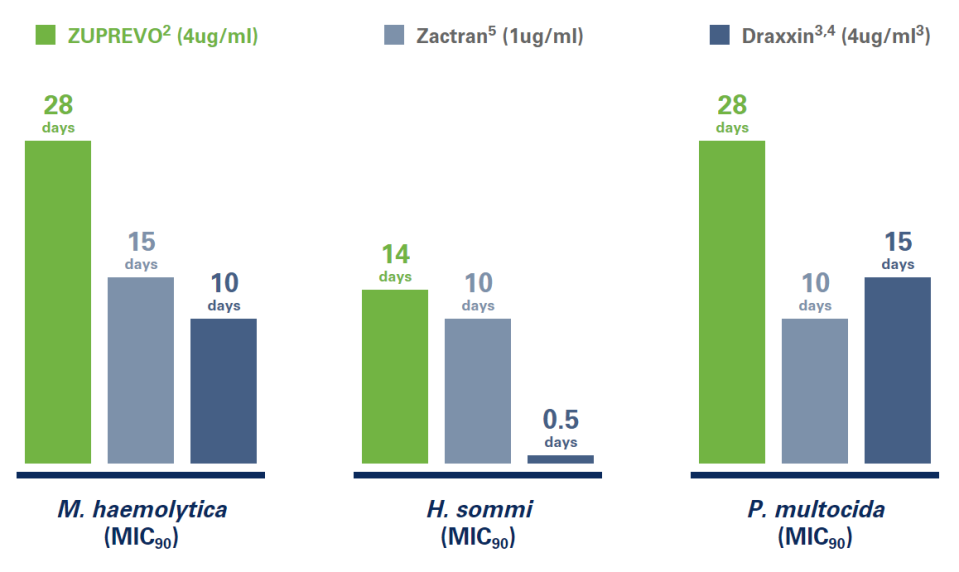 *The correlation between pharmacokinetic data and clinical effectiveness is unknown.
The difference is clear. Now is the time to get the fast-acting BRD treatment that lasts.
1 Preview: Economic effects of Bovine Respiratory Disease. J Anim Sci. 2020;98(2).
2 Menge M, et al. Pharmacokinetics of tildipirosin in bovine plasma, lung tissue, and bronchial fluid (from live, non-anesthetized cattle). J Vet Pharm Ther. 2011;1349:1365-2885.
3 Nowakowski, et al. Pharmacokinetics and lung tissue concentrations of tulathromycin, a new triamilide antibiotic, in cattle. Vet Ther. 2004;5(1):60-74.
4Gadinho. Susceptibility testing of tulathromycin: interpretative breakpoints and susceptibility of field isolates. Vet Microbiol. 2008;129:426-432.
5Huang, et al. Pharmacokinetics of gamithromycin in cattle with comparison of plasma and lung tissue concentrations and plasma antibacterial activity. J Vet Pharmacol Thera. 2010;33:227-237.
Important Safety Information
FOR USE IN ANIMALS ONLY. NOT FOR HUMAN USE. KEEP OUT OF REACH OF CHILDREN. TO AVOID ACCIDENTAL INJECTION, DO NOT USE IN AUTOMATICALLY POWERED SYRINGES WHICH HAVE NO ADDITIONAL PROTECTION SYSTEM. IN CASE OF HUMAN INJECTION, SEEK MEDICAL ADVICE IMMEDIATELY AND SHOW THE PACKAGE INSERT OR LABEL TO THE PHYSICIAN.
Cattle intended for human consumption must not be slaughtered within 21 days of the last treatment. Do not use in female dairy cattle 20 months of age or older. Use of this drug product in these cattle may cause milk residues. A withdrawal period has not been established in pre-ruminating calves. Do not use in calves to be processed for veal.
The effects of Zuprevo®18% on bovine reproductive performance, pregnancy and lactation have not been determined. Swelling and inflammation, which may be severe, may be seen at the injection site after administration. Subcutaneous injection may result in local tissue reactions which persist beyond slaughter withdrawal period. This may result in trim loss of edible tissue at slaughter.
DO NOT USE Zuprevo®18% IN SWINE. Fatal adverse events have been reported following the use of tildipirosin in swine. NOT FOR USE IN CHICKENS OR TURKEYS.

Sign up to receive cattle health management insights, industry news and more sent straight to your inbox.