Veterinary Care for Working Dogs: The 2021 AAHA Working, Assistance, and Therapy Dog Guidelines
AUGUST 2022 by Dr. Mark Pelham
Do you treat working, assistance, or therapy dogs in your practice? With approximately 500,000 service dogs in the United States plus many other types of working dogs, you probably have at least one on your patient list.1

Although we tend to group them all together, there are many types of working dogs: from K-9 police dogs to search and rescue dogs to medical detection dogs, as well as guide dogs, therapy dogs and emotional support dogs.2

With their unusual skills and responsibilities, working dogs of all kinds require extra consideration in veterinary practice. The American Animal Hospital Association (AAHA) published a set of veterinary practice guidelines to educate veterinarians on how to serve these very special animals. 2

During my many years in practice and in the US Army, I've been fortunate to know and care for service dogs, sports dogs and dogs working with law enforcement and the military (Army, Air Force and Navy). I have also served as a Subject Matter Expert for the military services of other countries. The AAHA Guidelines are a valuable addition to the discussion about veterinary care for all types of working and service dogs. In this article, I review some key points of the guidelines that will make a difference in your practice.
Definitions and distinctions
Terminology relating to different types of working dogs can be confusing and specialized. Very few people use terms like CBRNE (chemical, biological, radiological, nuclear and high-yield explosives) every day, yet for handlers of Multipurpose Canines (MPCs, the name for military working dogs employed by US Special Forces teams), it's a common term. Fortunately, the guidelines include a comprehensive glossary and list of acronyms.2

The AAHA Guidelines separate the jobs of working dogs into three types: working dogs, assistance dogs and therapy dogs (see Table 1). For each type, they provide clear, concrete definitions, examples, and relevant information for practitioners, from how the dogs earn their livings to special factors in the dog-handler relationship and how each will impact your treatment decisions.2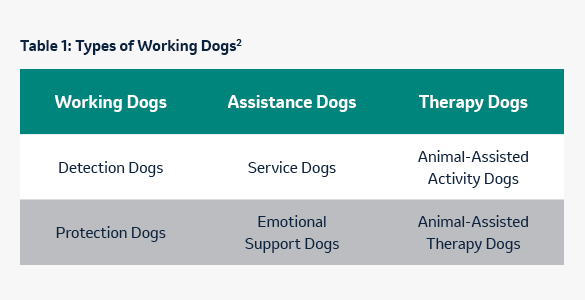 The guidelines use training and activities to distinguish between dogs in each group. For example, service dogs—like guide dogs and mobility assistance dogs—are trained for specialized activities to support their handlers in dealing with specific physical limitations. An emotional support animal's (ESA) presence eases the symptoms of their handler's emotional distress. ESAs can be any dog breed or size and do not require any particular training. In fact, one of the challenges with defining an ESA is that the certification process is currently not standardized.2

The guidelines also explain details about the different classifications of working dogs. For example, emotional support animals are not service animals under the Americans with Disabilities Act (ADA)3 or US Department of Transportation rulings4; hence airlines are not required to let an emotional support animal travel in the cabin. Interestingly, therapy dogs are also not service dogs according to the ADA.3
Not Your Average Dog
No matter what kind of work they do, working dogs' jobs place extra demands on their bodies. Search and rescue dogs require exquisite hearing and smell, balance, a strong toy drive, and fearlessness. Baggage-sniffing dogs must also be able to detect and distinguish between different types of odors, and are also selected for small size, friendliness, and a non-threatening reputation.2 Think about it: Have you ever not smiled at a baggage-sniffing beagle in the airport?
"Every working dog is an individual with a unique set of skills that should not be confused with other types of working dogs."
2021 AAHA Working, Assistance, and Therapy Dog Guidelines
Service dogs must be strong enough to perform the required tasks and smart enough to make decisions for their handlers. For example, a guide dog may override the handler's decision to cross the street if it seems unsafe.

Service dogs use their bodies and brains on the job every day, and keeping those bodies and brains working at 100% requires special considerations in practice.
Not your average pet owner
We all know pet owners who treat their pets like family members, paying attention to their appetites and attitudes. With working dogs, that relationship takes on new dimensions.
"Handlers…are often so closely bonded with their dogs that they detect subtle abnormalities…well ahead of what the veterinary team can detect symptomatically."
2021 AAHA Working, Assistance, and Therapy Dog Guidelines
The working dog's handler will be more closely attuned to their dog's health and behavior than almost any other owner you will meet. The guidelines recommend giving their comments additional credibility and consideration. Heed the handler's advice about handling their dogs. The dog may be trained to particular signals or be especially reactive to certain actions or tones of voice.2

The guidelines reiterate the necessity of keeping handlers and their dogs together unless it is absolutely necessary to separate them. This can be important for the handler's health, the dog's health, and the safety of everyone concerned. Separating a highly trained, highly reactive military dog from his or her handler will cause unnecessary stress and can be dangerous for the veterinary staff.2

An assistance dog's handler may require adjustments to your normal means of communication or the way you dispense medications. Ask the handler (and any supporting organizations they may work with) what works best for them.2

Remember that every action you take related to that dog impacts both the dog and the handler because they are a unit.
Impact on your practice
In every interaction with a working dog, you must consider that dog's job. You may need to change your normal protocols to meet the dog's needs. Minimize time in waiting rooms. Do not separate police or military dogs from their handlers unless it is absolutely necessary. Always use appropriate measures to keep the dog, the handler and your staff safe. Muzzles are frequently indicated, but a muzzle alone may not be enough. Consult the dog's handler for advice.2

All working dogs require special attention to physical fitness, mental health, and disease transmission. Many require additional considerations regarding public health and cognitive function. For some, special senses like smell, hearing or sight are essential for doing their jobs.

Think before prescribing. Metronidazole may be a perfectly acceptable treatment for giardiasis in a dog that supports a deaf person. However, it decreases olfactory perception, making it a poor choice for a dog that sniffs out explosives.2 The guidelines include other specific recommendations and provide more sources of information.2
Essential reading for your practice
Working dogs are extraordinarily valuable animals. Selecting, purchasing, and training them takes time and money. They play central roles in their handlers' lives or perform critical tasks for society. Their lives can entail much higher physical, cognitive and behavioral demands than the average pet.

The 2021 AAHA Working, Assistance, and Therapy Dog Guidelines help all of us in veterinary medicine understand and serve these dogs' needs. The guidelines are worthwhile reading for all members of your practice team.

For additional training on working dog practice, consider registering for RACE-approved continuing education like the Penn Vet Working Dog Center's Working Dog Practitioner Program. The program covers the performance requirements and risk factors for different types of working and performance dogs, teaches low-stress techniques that you can use in your practice, shows you how to develop comprehensive medical treatment plans for working and performance dogs, and more.5 Merck Animal Health is proud to be a Platinum Sponsor of the Working Dog Practitioner Program.

Merck Animal Health's products, including BRAVECTO® (fluralaner) Chews, SENTINEL® SPECTRUM® Chews (milbemycin oxime/lufenuron/praziquantel), SENTINEL® FLAVOR TABS® (milbemycin oxime/lufenuron), and Nobivac® vaccines, can be cornerstones of the specialized wellness plans that working dogs need. In addition to providing internal and external parasite protection and vaccines for preventing infectious diseases, Merck Animal Health actively supports organizations like NEADS® World Class Service Dogs and Penn Vet. For more information on how Merck Animal Health can support the health of working dogs, contact your Professional Services Veterinarian.
Key Takeaways
Familiarize yourself with the specific needs and responsibilities of the different types of working dogs.
Pay close attention to the handler's advice about handling the dog. Do not separate a working dog from his or her handler unless necessary.
Be prepared to modify your normal protocols to meet the needs of this special dog population.
Your entire practice team will benefit from reading The AAHA Guidelines.
IMPORTANT SAFETY INFORMATION:
The most commonly reported adverse reactions include vomiting, decreased appetite, diarrhea, lethargy, polydipsia, and flatulence. BRAVECTO Chews for Dogs have not been shown to be effective for 12-weeks' duration in puppies less than 6 months of age. BRAVECTO Chews are not effective against lone star ticks beyond 8 weeks of dosing. Fluralaner is a member of the isoxazoline class. This class has been associated with neurologic adverse reactions including tremors, ataxia, and seizures. Seizures have been reported in dogs receiving isoxazoline class drugs, even in dogs without a history of seizures. Use with caution in dogs with a history of seizures or neurologic disorders. See full prescribing information.

SENTINEL® SPECTRUM® Chews (milbemycin oxime/lufenuron/praziquantel). Dogs should be tested for heartworm prior to use. Mild hypersensitivity reactions have been noted in some dogs carrying a high number of circulating microfilariae. Treatment with fewer than 6 monthly doses after the last exposure to mosquitoes may not provide complete heartworm prevention. See full prescribing information. SENTINEL® FLAVOR TABS® (milbemycin oxime/lufenuron). Dogs should be tested for heartworm prior to use. In a small percentage of treated dogs, digestive, neurologic, and skin side effects may occur. See full prescribing information.
References
Trainer M. Service dogs save lives. Share America US Department of State website. Published September 30, 2016. Accessed February 24, 2022. https://share.america.gov/service-dogs-save-lives/
Otto CM, Cohen JA, Darling T, et al. 2021 AAHA Working, Assistance, and Therapy Dog Guidelines. J Am Anim Hosp Assoc. 2021;57:253-277.
Service animals. Americans with Disabilities Act. U.S. Department of Justice website; Civil Rights Division, Disability Rights Section. Updated February 24, 2020. Accessed February 24, 2022. https://www.ada.gov/service_animals_2010.htm
Service animal final rule. Traveling by air with service animals. U.S. Department of Transportation website. Office of the Secretary; 14 CFR Part 382. Updated December 2, 2020. Accessed February 24, 2022. https://www.transportation.gov/briefing-room/service-animal-final-rule
Working Dog Practitioner Program. PennVet Working Dog Center Educational Programs. University of Pennsylvania School of Veterinary Medicine website. Accessed February 24, 2022. https://www.vet.upenn.edu/research/centers-laboratories/center/penn-vet-working-dog-center/learn-about-working-dogs/practitioner-certification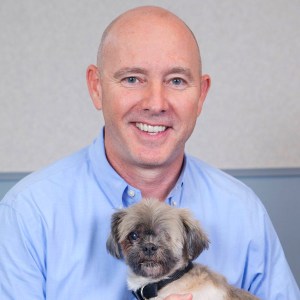 Mark Pelham
DVM,
Sr. Professional Services Veterinarian
Gulf Coast Region (AL, FL, LA, MS, TN)

READ FULL BIO