States Take on Animal Confinement
California's Proposition 12 Latest in Housing Bans
The topic of animal housing has been a key issue in the farm animal welfare discussion. Is there a superior housing option that's best for animal well-being and sustainability? How does that impact production costs – and costs passed on to the consumer? While some would argue these questions have yet to be fully answered, a dozen states have pushed forward with measures that ban or restrict animal housing.
Most recently, in November 2018, California voters approved a measure that requires all eggs sold in-state or into the state come from cage-free hens by 2022. Additionally, it establishes minimum space requirements for calves raised for veal, breeding pigs and egg-laying hens.1 This legislation has caught the attention of states across the country due to the monumental implications it may have for future animal welfare regulations. Currently 26 states have a ballot initiative or referendum in place.2
Similarly, in 2016, voters in Massachusetts approved a measure that bans the sale of products from pigs, calves and hens raised in confined spaces.
The Supreme Court was asked to hear arguments that California and Massachusetts laws improperly interfered with interstate commerce. In January 2019, the high court declined to get involved in these state cases and gave no reason for rejecting the lawsuits. The attorney general's office in Missouri, spearheading one of the lawsuits, vowed to continue fighting for farmers and consumers.3
Many groups have voiced concern that such laws increase consumers' economic burden and have huge implications for future regulations of animal welfare. Data from California's nonpartisan Legislative Analyst's Office supports that line of thinking. It expects California's law to increase the price of eggs, pork and veal as farmers take on the costs to build new facilities or renovate existing facilities to comply.4
Additionally, the American Veterinary Medical Association says it could cost the state as much as $10 million annually to enforce provisions, and millions of additional dollars are in jeopardy should farms choose to stop or reduce production because of the higher costs.1
Determining the best hen housing system
A multidisciplinary public-private partnership, the Coalition for Sustainable Egg Supply, was formed to conduct research to evaluate various laying-hen housing systems for impacts on sustainability and animal well-being. Researchers compared three housing systems – cage-free aviaries, enriched colony cages and conventional cages.
Results showed positive and negative impacts and trade-offs associated with each housing system. Among the many tests conducted, blood samples were taken to determine if the housing arrangements induced stress on animals. This data did not suggest any differences in long- or short-term stresses between the three housing systems.5
"Hens in enriched colonies had problems that were intermediate in frequency and severity compared to the cage-free aviary and conventional cages," said Janice Swanson, Ph.D., chair, Department of Animal Science, Michigan State University, who spoke at the Merck Animal Health Advancing Animal Welfare Together Symposium in 2017. "The enriched colony system performed best in terms of indoor ammonia and particulate matter concentrations and emissions to the outdoor environment."
"Supporting sustainable farming practices extends beyond our primary business goals, and we are committed to helping our farmer customers provide quality animal care," said Ivan Alvarado, DVM, director, poultry technical services, Merck Animal Health. "The science behind the best path forward is critical, which includes what is best for the animal, while also ensuring available protein essential to high-quality nutrition for consumers and continuous improvement in our food supply chain."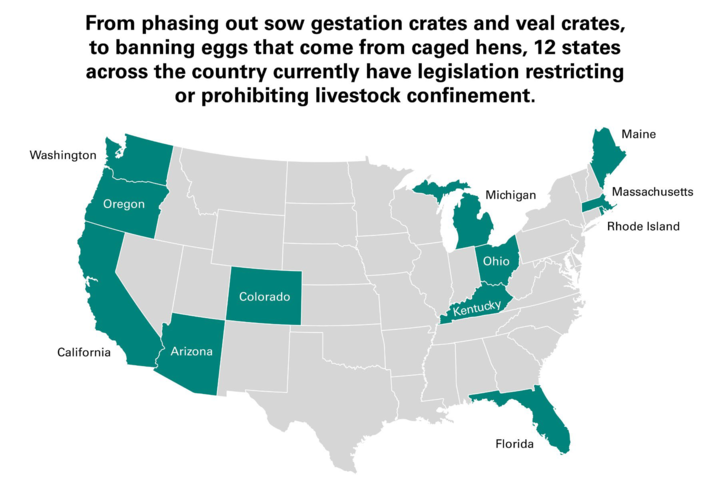 Arizona, California, Colorado, Florida, Kentucky, Maine, Massachusetts, Michigan, Ohio, Oregon, Rhode Island, Washington
1. AVMA. News & Publications. JAVMA News. Another ballot initiative increases housing size for farm animals. December 12, 2018. https://www.avma.org/News/JAVMANews/Pages/190101h.aspx. Accessed May 3, 2019.2. Ballotpedia. States with initiative or referendum. https://ballotpedia.org/States_with_initiative_or_referendum. Accessed May 3, 2019.
3. Lieb, D. US Supreme Court declines involvement in state egg law cases. AP News. January 8, 2019. https://www.apnews.com/fccd9468bdd24801bb24adb2f0a04716. Accessed May 3, 2019.4. Legislative Analyst's Office (LAO). Propositions and Initiatives. Proposition 12. Establishes New Standards for Confinement of Certain Farm Animals; Bans Sale of Certain Non-Complying Products. Initiative Statute. November 6, 2018. https://lao.ca.gov/BallotAnalysis/Proposition?number=12&year=2018. Accessed May 3, 2019.
5. Coalition for Sustainable Egg Supply. Research. CSES Research Project. Overview. Final Results. http://www2.sustainableeggcoalition.org/final-results. Accessed May 3, 2019.