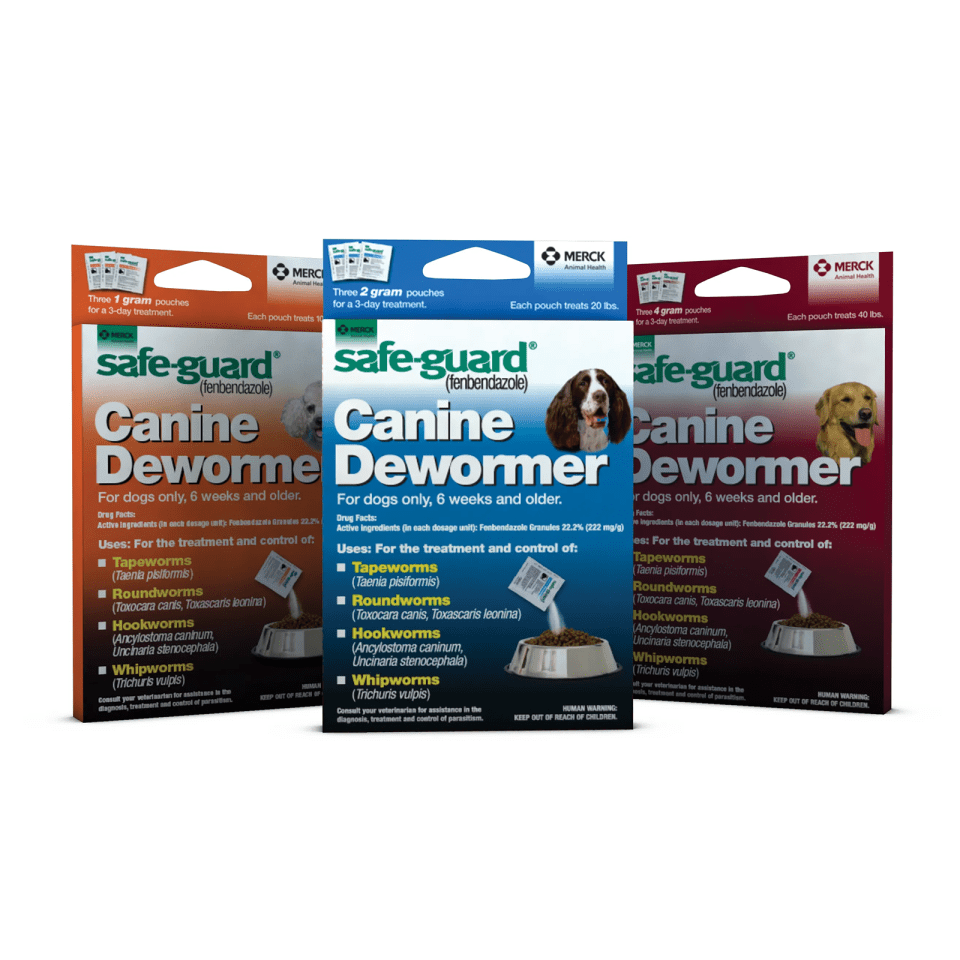 SAFE-GUARD® (fenbendazole) Canine Dewormer
INTERNAL PARASITICIDE

Product Description
Fenbendazole 22.2% canine dewormer. For the treatment and control of Roundworms (Toxocara canis, Toxascaris leonina), Hookworms (Ancylostoma caninum, Uncinaria stenocephala), Tapeworms (Taenia pisiformis), and Whipworms (Trichuris vulpis)
| Pkg Size | UPC # | UIN # |
| --- | --- | --- |
| 1gm Single Box | 021784470124 | 034906 |
| 1gm Display Carton (8 boxes) | 021784349062 | |
| 2gm Single Box | 021784470223 | 033576 |
| 2gm Display Carton (8 boxes) | 021784423052 | |
| 4gm Single Box | 021784470421 | 040694 |
| 4gm Display Carton (8 boxes) | 021784421652 | |
IMAGES
---
ADVERTISING
---
COLLATERAL
---
MERCHANDISING
Contact us at RetailTeam@merck.com for merchandising program details and availability.
---
SOCIAL MEDIA
---
TRAINING TOOLS
---
IMPORTANT SAFETY INFORMATION: For animal use only. Do not use in pups younger than 6 weeks. Do not deworm a dog or puppy that is sick. Approximately 1% of dogs had vomiting associated with the use of this product. Consult your veterinarian for help in the diagnosis, treatment and control of parasitism.
Get the Latest Updates!
Sign up for our newsletter and stay up to date on the latest retail updates.