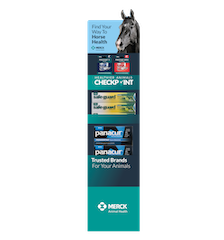 Horse Health Solution Center Header
Merck Animal Health promotes Trusted Brands for Your Animals. Capture customer attention for Horse Health with this eye-catching Solution Center. Base include 24 Proxy Cards (12 of each version), 12 SAFE-GUARD® 92gm Paste, and 2 PANACUR® POWERPAC.
Contact us at RetailTeam@merck.com to order this great merchandising item as well as for merchandising program details and availability.