PRESTIGE®


The Science of Advanced Protection

Understanding antigenic drift
and equine influenza strains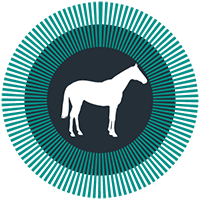 The only vaccines featuring respiratory disease insights
from the Equine Biosurveillance Program.
Provide the Full Spectrum of Protection with PRESTIGE®
Whether your patients are in a breeding barn, the show ring or anywhere in between, PRESTIGE vaccines provide
essential protection for the most common and deadly infectious disease of the horse. They are the ONLY vaccines
featuring updated influenza strains shown to match today's threat.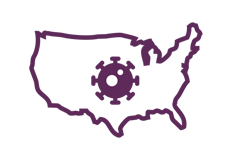 ADVANCED EIV PROTECTION


Featuring the most current
influenza strain available in the U.S.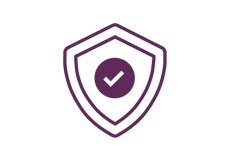 INDUSTRY-LEADING SAFETY AND EFFICACY


A longstanding reputation for
strong immune response and
minimal adverse reactions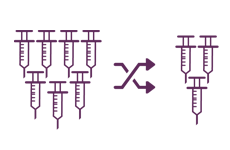 MAXIMUM FLEXIBILITY


Multiple antigen combinations and
the industry's only monovalent
equine rabies vaccine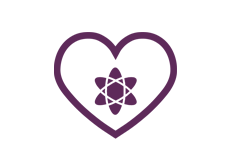 DEDICATED TO MAKING
A DIFFERENCE
Where the Science of Healthier
Animals™ meets passion and
commitment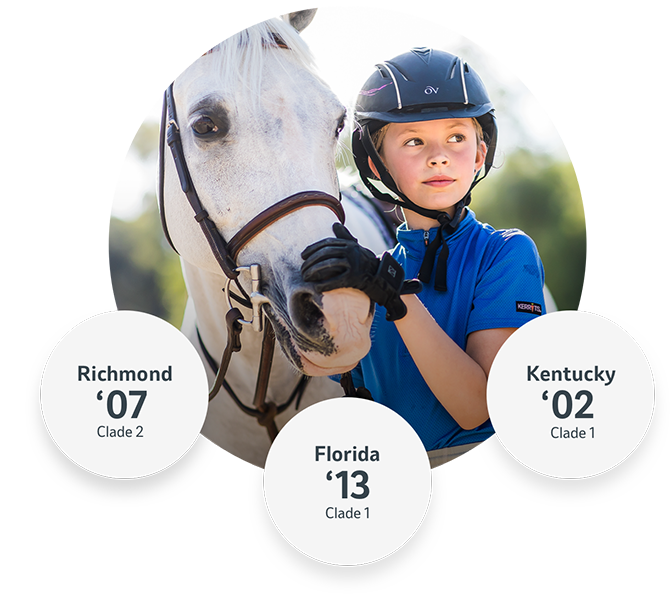 Influenza Strains Matter
Want to ensure you have the upper hand on equine influenza? Only
PRESTIGE® vaccines feature Florida '13, the most current influenza strain
available and proven to be highly relevant to the EIV circulating today
in the U.S.1
In newly released research comparing commercially available U.S.
vaccines to positive EIV samples from U.S. outbreaks, only Florida '13
demonstrated complete similarity to all isolates. 1,2
PRESTIGE influenza-containing vaccines feature both Clade 1 and Clade 2
strains, meeting current influenza protection guidelines from both
the American Association of Equine Practitioners (AAEP) and World
Organization for Animal Health (OIE).

Florida '13 Clade 1
Richmond '07 Clade 2
Kentucky '02 Clade 1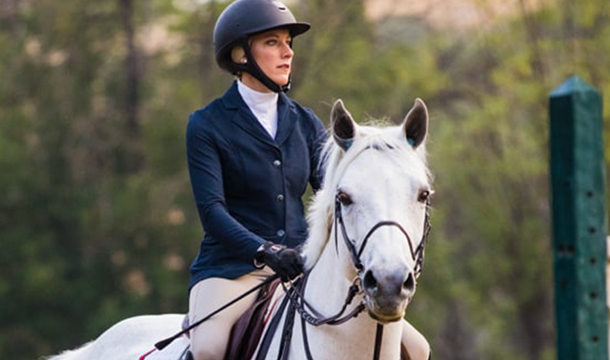 Three Decades of Safe and Effective Protection
You know them and you trust them, because PRESTIGE® vaccines are
shown to be 98% reaction-free in field safety trials. 1
Merck Animal Health is a leader in modern-day vaccine technology,
incorporating both the adjuvant Havlogen® and the Antigen
Purification System™ into our vaccine manufacturing process. These
proprietary features stimulate a strong immune response while
minimizing adverse reactions.
Essential Disease Protection with Many Options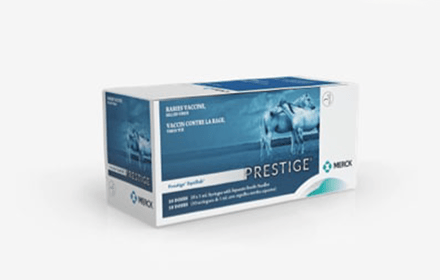 PRESTIGE® EQUIRAB
PRESTIGE EquiRab is the industry's only
equine-specific monovalent rabies vaccine and features
a 14-month duration of immunity.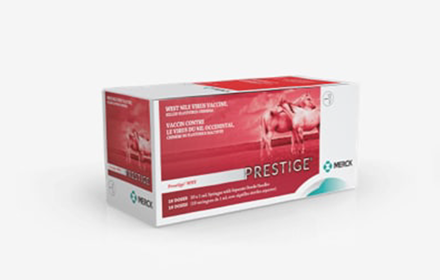 PRESTIGE® WEST NILE VIRUS VACCINES
PRESTIGE West Nile virus vaccines, proven using the gold-standard inthrathecal challenge model, have demonstrated statistically significant reduction in neurologic disease, encephalitis, viremia and rectal body temperatures.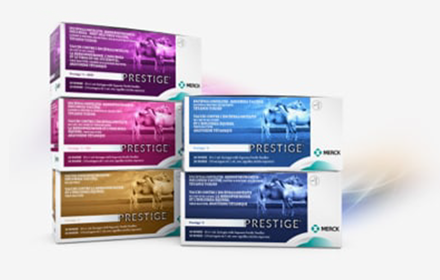 MULTIPLE ANTIGEN COMBINATIONS
Multiple antigen combinations provide you the
flexibility to create a customized vaccination
program for each horse in you care.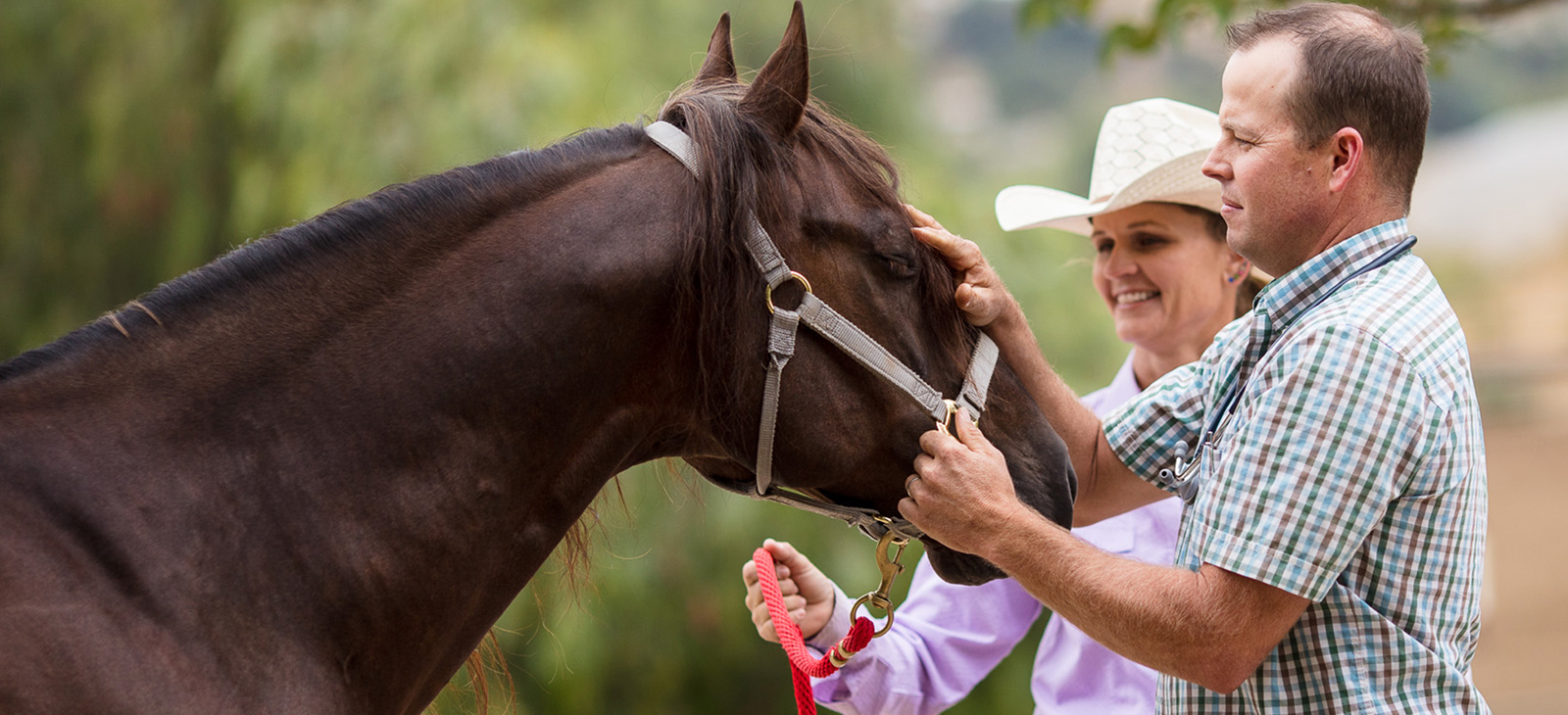 Only PRESTIGE® vaccines are backed by the Equine Respiratory
Biosurveillance Program, a partnership between Merck Animal Health
and the University of California, Davis Equine Infectious Disease
Research Laboratory. The Biosurveillance Program is an unparalleled
longitudinal study of infectious upper respiratory disease in horses
featuring one of the largest collections of equine influenza isolates in the
United States. It continues to provide new information on infectious
respiratory disease threats, helping shape industry management and
preventive strategies.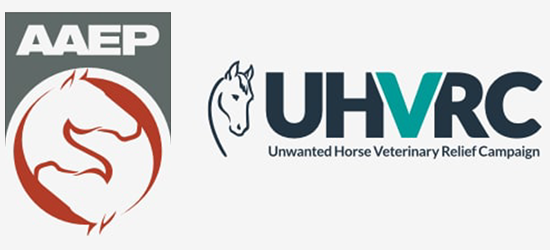 People and Programs that Make a Real Difference
With PRESTIGE®, you partner with a leading team of Merck Animal Health
veterinary and sales professionals who have an unparalleled passion for the
horse and profession.
We are proud to be an AAEP Education Partner since 2002
We are a founding partner of the Unwanted Horse Veterinary Relief
Campaign, a nonprofit joint effort with AAEP. Each year a portion of
PRESTIGE sales goes toward vaccinating rescued horses. More than
43.000 vaccine doses have been donated to horses in need
PRESTIGE® Intramuscular Vaccines
Intranasal Vaccines
The Spectrum of PRESTIGE® Disease Protection
Resources
The Science of West Nile Protection
Customize your West Nile protection to the patient, with high degrees of safety for the horse and convenience for you.
Client Education Infographics
Eastern/Western Equine Encephalomyelitis
Learn more about what causes EEE/WEE, clinical signs, treatment, and prevention.
Learn more about the leading cause of arbovirus encephalitis in horses, including disease prevalence, diagnosis, and treatment.
An overview of clinical signs, prevention, and treatment of this highly contagious and common disease, plus the importance of updated vaccine strains.
Equine Herpesvirus type 4 (EHV-4)
Important facts on EHV-4. Including clinical signs, prevention, and diagnosis.
Equine Herpesvirus Myeloencephalopathy
Unique risk factors of the neurologic form of EHV-1 and what to expect upon diagnosis.
Get the facts on Streptococcus equi, including clinical signs, diagnosis, treatment, and recovery.
Equine Herpesvirus type 1 (EHV-1)
Learn more about management and prevention of EHV-1 respiratory and reproductive disease.
Invariably fatal, rabies also has human health implications. Learn how horses acquire rabies and what signs to watch for.

Contact Us for More Information About PRESTIGE® Vaccines for Your Equine Practice.
We'll answer any questions and help you start using PRESTIGE to protect the horses in your care.
PRESTIGE®
For technical assistance or to report a suspected adverse drug reaction, contact Merck Animal Health at 866-349-3497.

This site is intended for veterinary professionals. Visit our website for horse owners.
References:
1. Data on File. Merck Animal Health.