Keeping you at the forefront of
infectious upper respiratory
disease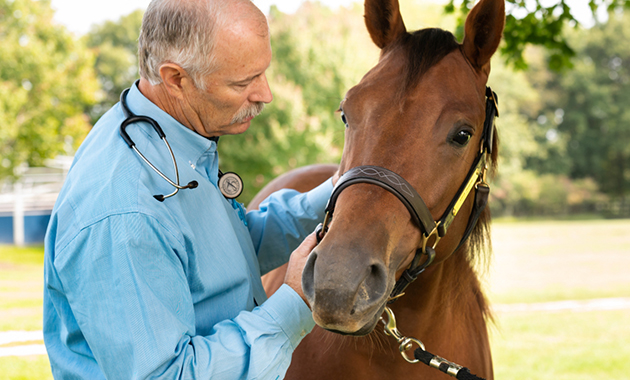 Knowledge is Power
During an acute outbreak of infectious upper respiratory disease, an accurate and timely diagnosis is critical to ensure proper treatment of affected horses. It is also extremely important in providing guidance regarding vaccination, management, biosecurity, and the potential need for quarantine.
The Merck Animal Health Equine Biosurveillance Program offers veterinarians the information and tools to sample horses with clinical signs of upper respiratory disease, so they can provide the most accurate and timely diagnosis possible to their clients.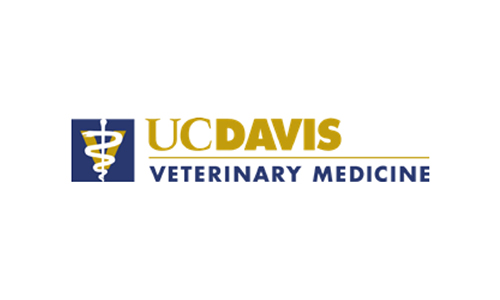 About the Merck Animal Health Equine
Biosurveillance Program
Since 2008. Merck Animal Health in collaboration with the University of California, Davis School of Veterinary Medicine (UC Davis) has been conducting a voluntary longitudinal study of the prevalence and epidemiology of relevant viral and bacterial respiratory pathogens.
More than 10,000 samples from U.S. equids of numerous ages, genders, and breeds presenting with fever and signs of acute upper respiratory disease and/or acute neurological disease have been collected since the study began. Samples are tested via quantitative PCR at UC Davis for six infectious upper respiratory disease pathogens:
Equine herpesvirus types 1 and 4 (EHV-1, EHV-4)
Equine influenza virus (EIV)
Streptococcus equi subspecies equi (strangles)
Equine rhinitis A/B viruses (ERAV/ERBV)
The results are returned within 24 hours, allowing participating veterinarians to:
Provide a timely an accurate diagnosis for clients
Prescribe optimal treatment for horses with infectious upper respiratory disease
Make recommendations about vaccination, management, and biosecurity during an infectious respiratory disease outbreak, including the potential need for quarantine
Evaluate the efficacy of current vaccination protocols
Equine Respiratory Update Current and Past Issues
Discerning Differences Between EHV-1 and EHV-4
Spring 2021: Spotlight on equine herpesvirus and cumulative study data for the top infectious upper respiratory diseases in the horse.
Looking Back to What's Ahead
Fall 2020: Preview the 2020-2021 winter-spring seasonal disease outlook.
From Outbreak to Vaccine: A True Tale of Equine Influenza Surveillance
Fall 2019: A silver lining in an equine influenza outbreak? Thanks to real world surveillance we can learn from an outbreak by isolating and sequencing the strain causing it to potentially improve vaccine protection.
Key Program Findings and Management Tips
To date, the study has not only revealed numerous insights with regard to disease trends and epidemiology, it
has also delivered a new highly relevant Clade 1 influenza vaccine strain, Florida '13.1
EHV-4 and EIV are the most prevalent infectious upper respiratory pathogens.
EHV-1 tends to grab the headlines because of the neurologic form of the disease, but EHV-4 and EIV are responsible for the largest portion of sickness.
Florida '13
Florida '13 identified through the Equine Biosurveillance Program. Florida '13 is the most current Clade 1 strain available in U.S. EIV inactivated vaccines.
Learn more here.
Biosecurity plus vaccination is best.
Vaccination alone may reduce clinical signs of disease and shorten the recovery period, but in may not provide complete protection. For example, 61 percent of EIV-positive cases since the surveillance program began in 2008 have been from vaccinated horses.2
Particularly for highly contagious diseases like equine herpesvirus, influenza and strangles, sound biosecurity practices will provide a broader net of disease protection.
Age does not preclude infectious disease.
The study has debunked the long-held belief that many infectious upper respiratory diseases such as influenza are more common in young horses. The latest changes in the equine influenza virus (antigenic drift) seem to have made horses more susceptible to the disease.
Travel is a significant risk factor.
For the traveling horse(s) and for the resident horses being exposed to traveling horses.
A definite seasonality to disease outbreaks is present.
Generally, disease outbreaks peak in spring and fall, and they valley in the heat of summer.
EHV-4 appears to be most prevalent in the fall months, in contrast to the other primary respiratory pathogens that are more prevalent in the winter and spring months.
Equine flu season is from December to April.
1. Merck Animal Health and University of California, Davis (Nicola Pusteria). Infectious Upper Respiratory Disease Surveillance Program. Ongoing research 2008-present. 2. Vaala, W. et al. Prevalence Factors Associated with Equine Influenza Virus Infection in Equids with Upper Respiratory Tract Infection from 2008 to 2019. AAEP Proceedings, Vol. 65, 2019.
Client Education Infographics
The ABC and D's of Biosecurity
In addition to vaccination, these practical equine biosecurity measures are critical to managing highly contagious diseases like equine herpesvirus, influenza and strangles.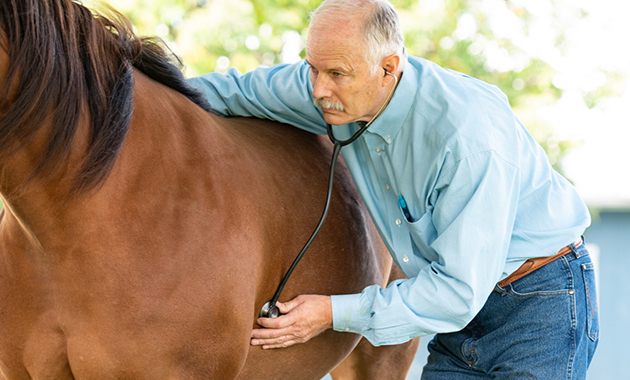 How You Can Learn More
Talk to your Merck Animal Health sales representative for more information about the Merck Animal Health Equine Biosurveillance Program, or call (800) 521-5767. Once enrolled, you'll receive collection material, submission forms, sample collection instructions. After obtaining nasal swabs and blood from suspect cases, samples are shipped to UC Davis, with results provided within 24 hours of receipt. Numerous shipping and laboratory diagnostic charges as well as collection material costs are covered by Merck Animal Health.
If you have questions about the program, call the Merck Animal Health Equine Professional Services Team as (866) 349-3497 or email
USEquinePV@merck.com