Myositis (Selenium-Tocopherol Deficiency) Syndrome
Disease Overview
Many regions of the United States produce selenium-deficient forage, including areas of the Pacific Northwest, the Great Lakes and the Eastern Seaboard. The clinical condition that results from a deficiency of selenium and vitamin E (which work together synergistically) is sometimes called "white muscle disease" or nutritional myodegeneration. This degenerative disease affects skeletal and cardiac muscle. Young, rapidly growing foals born to dams fed a diet low in selenium and vitamin E are most commonly affected, but this deficiency has been implicated in muscle problems in adult horses as well.
Merck Animal Health Solutions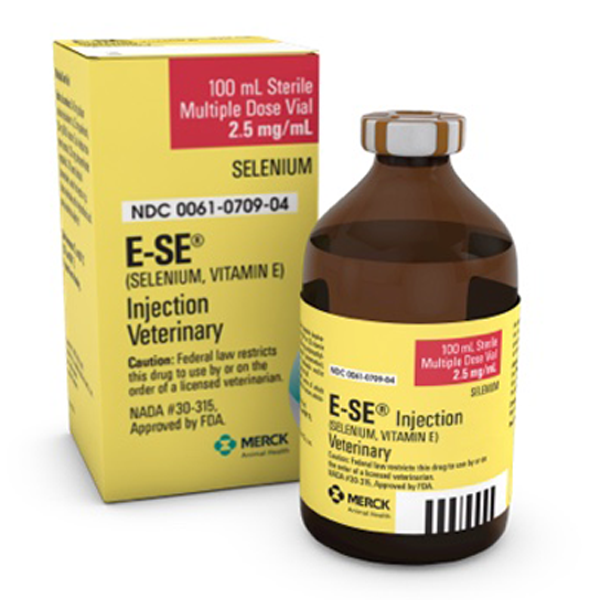 Vitamin E-selenium, injectable solution for use in horses only.
Clinical Signs
Rapid respiration
Profuse sweating
Muscle spasms and stiffness
Recumbency; difficulty rising
Rapid, irregular heart rate
Failure to suckle
Difficulty swallowing
Discolored (red- or brown-tinged) urine
Trembling
Sudden death
Risk Factors
Nutrient-deficient pasture or hay
Young age
References
Amanda House, "Selenium in the Equine Diet," 2016, aaep.org/horsehealth/selenium-equine-diet.

Stephanie J. Valberg, "Nutritional Myopathies in Horses," Merck Veterinary Manual, February 2014, www.merckvetmanual.com/musculoskeletal-system/myopathies-in-horses/nutritional-myopathies-in-horses.

"Vitamin E in Horses," UC Davis Veterinary Medicine, April 8, 2019, www.vetmed.ucdavis.edu/labs/finno-laboratory/vitamin-e-horses.
Important Safety Information
Intravenous administration, if elected, should be by slow injection. Selenium is toxic if administered in excess. Anaphylactoid reactions, some of which have been fatal, have been reported in horses. Medications which have been reported to cause major adverse reactions in horses should be avoided when E-SE® is administered. Not to be used in horses intended for food. For complete product information please see package insert.