Vaccine protection comes through in tough weather
Tough calf-raising weather was no match for BOVILIS® NASALGEN® 3-PMH in northeast Oklahoma this year.
"We had a hard cold spell with snow in March and it was really hot toward the end of May. Then in July it turned cool and rainy," recalls Josh Dill of rural Mayes County, Oklahoma. Dill owns 50 Angus and Angus-crossbred commercial cows with his wife Erika and two young children.
"This was definitely pneumonia-inducing weather," he says.
Fortunately, Dill's calves experienced no respiratory issues during these challenging months, thanks in part to protection provided by BOVILIS NASALGEN 3-PMH – the first intranasal vaccine to provide protection against both viral and bacterial pneumonia.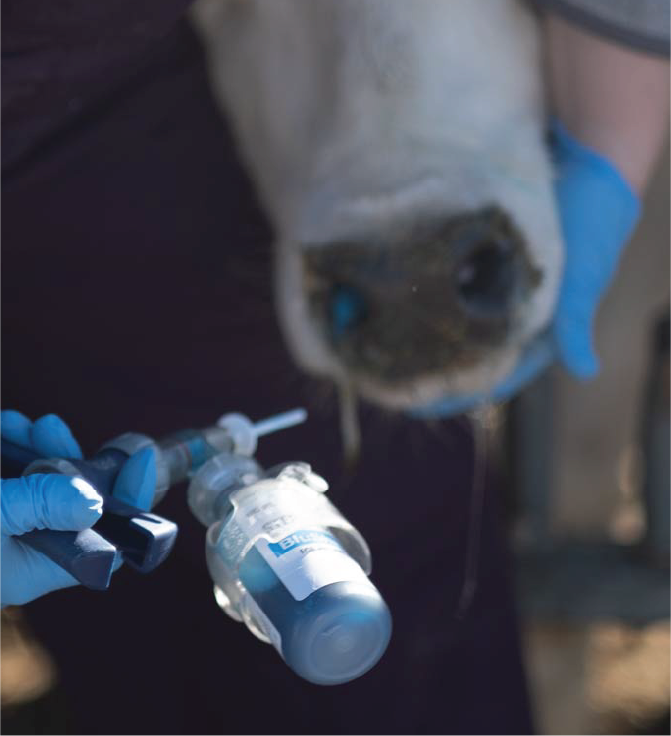 The vaccine protects against five of the major causes of bovine respiratory disease (BRD), including IBR, BRSV, PI3, Pasteurella multocida and Mannheimia haemolytica, providing nursing calves with effective immunity in just one shot.
Intranasal vaccination is a perfect fit with how Dill and his team process calves at branding. Because they work calves on the ground instead of using a chute, it's easier to administer BOVILIS NASALGEN 3-PMH in the nose versus trying to reach the neck with an injection.
"We have two young neighbor boys helping us process calves," explains Dill. "Giving the intranasal vaccine is a good way to help them start learning how to work cattle. It's easy for them to handle the syringe and there is no needle involved. The vaccine leaves a blue color on the nose, so we know it's been given correctly."
Dill purchases BOVILIS NASALGEN 3-PMH in 10-dose bottles and uses a 25-mL syringe for administration. With 2-mL dose, the processing crew can vaccinate 10 animals before reloading and there is no need to change needles. "We just fill up the syringe and go," Dill says.
Also, BOVILIS NASALGEN 3-PMH appears to be easy on the calves, Dill says. He's noticed no adverse reactions. By eliminating an injection, the intranasal vaccine is BQA-friendly as well.
Dill works closely with the veterinarians at Pryor Veterinary Hospital to implement branding-time protocols. In addition to BOVILIS NASALGEN 3-PMH, calves receive BOVILIS 20/20 VISION® 7 vaccine for pinkeye and blackeye, implants and a dewormer. In August, they receive BOVILIS VISTA® ONCE SQ, a modified live virus (MLV) vaccine injection that covers IBR, BVD Types 1 & 2, PI3, BRSV, M. haemolytica and P. multocida.
When marketing cattle in October, Dill combines his calves with those from two other nearby producers. They ship a total of about 400 calves to a single buyer for feeding in Nebraska. Following the same health and vaccination protocols for all 400 calves makes for a consistent load to meet the buyer's needs. Steers sell at about 675 pounds and heifers at 650 pounds.
For Dill and the other producers, using BOVILIS NASALGEN 3-PMH means one less thing to worry about – providing early, effective protection against BRD with no needles to contend with.
Find more content for your beef operation.