Short-duration treatment among
AMOXI-MAST® benefits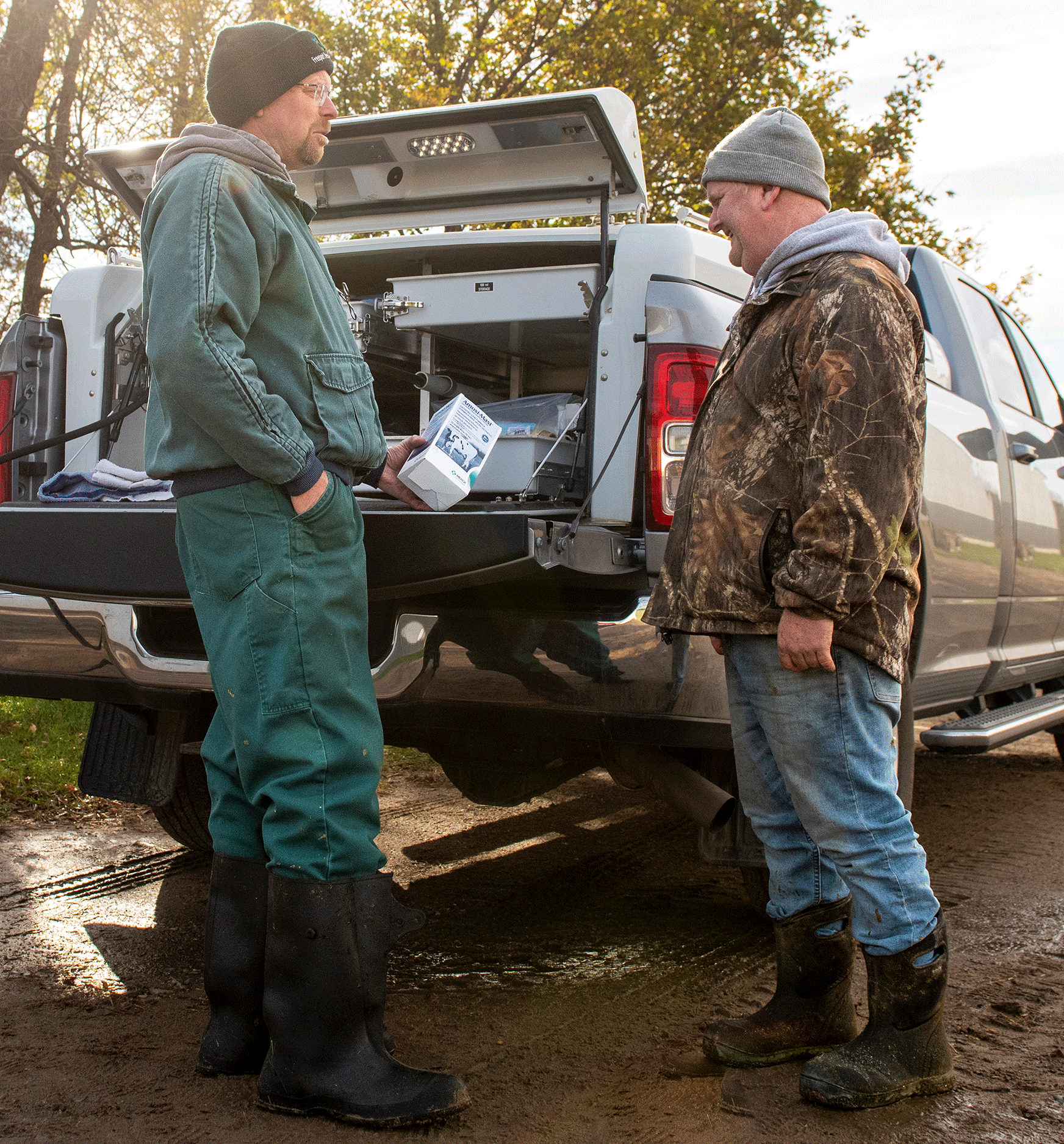 At Freeport Veterinary Service, dairy practitioners Tom Czeck, D.V.M., Steve Baldwin, D.V.M., and Keith Yorek, D.V.M., share common goals: being progressive and finding new ways to do the best job possible with their clients every day. That includes advising producers on the best strategies against mastitis.

With so many potential causes of mastitis, the Freeport, Minnesota, practitioners advocate individual cow and/or bulk tank culturing for accurate diagnosis. The clinic offers culturing services. Some clients have on-farm capabilities. 

"Sometimes it is hard to convince producers to wait 24 hours for culture results. They want to start treatment right away because they think the cow will get worse. In fact, there are benefits to holding off treatment until we can confirm the cause," says Baldwin. 

For certain types of mastitis, such as Gram-negative cases, supportive care with fluids and anti-inflammatory products can be effective without antibiotic treatment.

When antimicrobial therapy is warranted, the veterinary team makes product recommendations based on a variety of factors, such as efficacy, price, convenience and milk withhold. 
For mastitis caused by Gram-positive bacteria, AMOXI-MAST® (amoxicillin intramammary infusion) is a valued tool in the clinic's mastitis control arsenal.
"A lot of mastitis tubes have similar efficacy, so it comes down to milk withhold and price," says Yorek. "AMOXI-MAST has a big advantage with three treatments given every 12 hours and a 60-hour milk withhold. We can bring cows back in the milk line sooner compared with other products."

Adds Baldwin: "AMOXI-MAST has some great benefits. The short treatment window is probably the biggest one."

With the 1.5-day treatment duration of AMOXI-MAST, the veterinarians note that the product often achieves a bacteriological cure whether milk appears normal or not.

"It sometimes is a struggle to help producers understand there may be some abnormalities in the milk, even after successful treatment. Research shows that after the bacterial infection clears it may take a few more days for milk to return to normal," says Yorek. 

All three veterinarians focus on educating producers on available treatments and helping them evaluate pros and cons. 

"There is no set standard or one way to tackle mastitis. There is always new research coming out on mastitis management, so it's an ever-evolving world," Czeck says.

Meanwhile, AMOXI-MAST remains an affordable and effective mastitis treatment option for many Freeport Veterinary Service dairy clients. 

For more information, visit AmoxiMast.com. 
AMOXI-MAST WARNINGS: Milk taken from animals during treatment and for 60 hours (2.5 days) after the last treatment must not be used for food. Treated animals must not be slaughtered for food purposes within 12 days after the last treatment. For complete information, refer to the product label.
Find more content for your dairy operation.