Bringing simplicity and labor savings to dairies treating mastitis
As a dairy producer, you know the drill for treating a cow with a non-steroidal anti-inflammatory (NSAID) product via intravenous (IV) administration.

Sort the cow. Get her into a headlock. Put on a halter. Restrain her head to one side. Find the jugular vein. Insert a needle into the vein. All while avoiding being stepped on or sideswiped by a 1,500-pound animal. The cow doesn't enjoy the process and neither do you.
Now there is an easier, safer option, thanks to a new FDA-approved indication for BANAMINE® TRANSDERMAL (flunixin transdermal solution) from Merck Animal Health.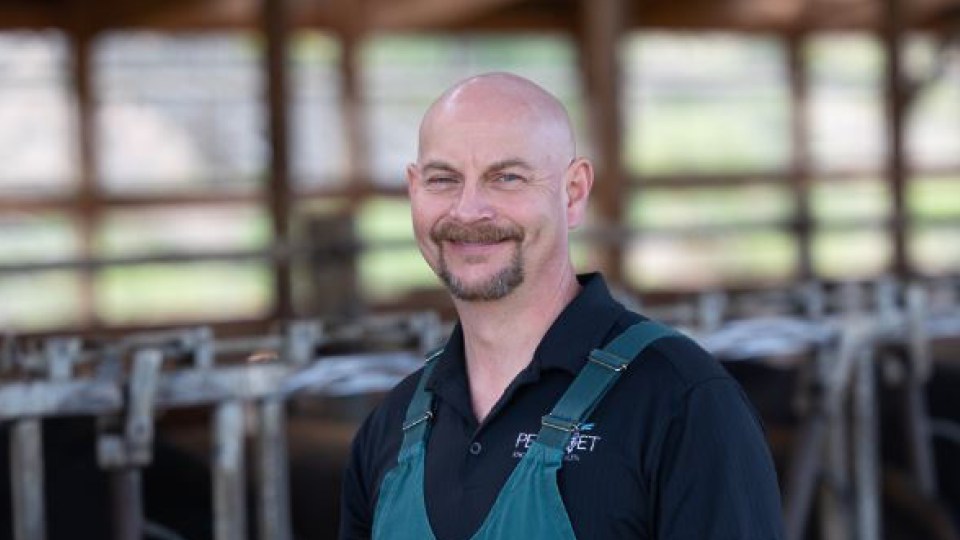 On the market for cattle since 2017, this pour-on product is now approved for use in lactating cows to control fever associated with acute mastitis. That's in addition to previous indications for control of fever due to bovine respiratory disease (BRD) and control of pain due to foot rot.
With simple, topical application along the animal's back, BANAMINE TRANSDERMAL eliminates the hassles of IV NSAID administration. It requires a 48-hour milk withhold after treatment.
New treatment option for fever control
Tom Wakefield, D.V.M., a dairy veterinarian with Perry Veterinary Clinic in upstate New York, welcomes the ability to prescribe BANAMINE TRANSDERMAL to relieve fever due to acute mastitis in lactating cows.
The veterinarian says BANAMINE TRANSDERMAL fits a variety of potential protocols for treating acute mastitis. For example, the pour-on NSAID is a good option to help cows recover from certain types of mastitis that may not respond to antibiotic treatment.
"We know that feed and water intake are critical for cows with mastitis. Anything that makes the cow feel better will be a benefit, so she can get up to eat and drink versus lying in the stall," Wakefield says.
Doing the right thing
Wakefield says more dairy producers now understand that relieving fever and pain in cattle has benefits beyond economic return. "It's the right thing to do," Wakefield says.
"I believe BANAMINE TRANSDERMAL is aimed at a great need in the dairy industry and I appreciate that Merck Animal Health brought it to market."
Labor saving benefits
BANAMINE TRANSDERMAL also brings labor savings to the dairy by eliminating the need to restrain the cow.
Wakefield points out that properly administering an IV requires a high level of skill and training. For dairies facing a labor crunch, workers can quickly and easily learn to apply BANAMINE TRANSDERMAL, freeing the herdsperson for other important management tasks.
"Even cutting 15 to 20 minutes from the herdsman's daily schedule will add up over time," he says.
Treating with confidence
Wakefield has previously prescribed BANAMINE TRANSDERMAL to control fever in dairy heifers with BRD, with visible results.
"We see animals that eat better, feel better and are more active," Wakefield says. "BANAMINE TRANSDERMAL is especially beneficial in cases where you're not sure if the BRD cause is bacterial or viral."
Due to his confidence in BANAMINE TRANSDERMAL, Wakefield recently prescribed it on a 120-cow dairy to control fever associated with an outbreak of BRD caused by bovine respiratory syncytial virus (BRSV). This highly contagious pathogen can be economically devastating to a herd, causing labored breathing, emphysema, off-feed, milk production losses and premature culling.
"The BRSV outbreak presented an emergency situation to save the cows. The dairy owner was not comfortable giving an IV. BANAMINE TRANSDERMAL allowed the producer to take timely action to relieve fever versus waiting for the veterinarian to come," Wakefield recalls. "BANAMINE TRANSDERMAL was one component of a treatment protocol that got cows back on feed within 24 hours and controlled the outbreak within 48 hours."
View the BANAMINE TRANSDERMAL Product Label.
© 2023 Merck & Co., Inc. Rahway, NJ, USA and its affiliates. All rights reserved.
IMPORTANT SAFETY INFORMATION:
NOT FOR HUMAN USE. KEEP OUT OF REACH OF CHILDREN. Milk that has been taken during treatment and for 48 hours after treatment must not be used for human consumption. Cattle must not be slaughtered for human consumption within 8 days of the last treatment. Not for use in replacement dairy heifers 20 months of age or older or dry dairy cows; use in these cattle may cause drug residues in milk and/or calves born to these cows or heifers. Not for use in beef and dairy bulls intended for breeding over 1 year of age, beef calves less than 2 months of age, dairy calves, and veal calves. Do not use within 48 hours of expected parturition. Approved only as a single topical dose in cattle. For complete information on Banamine® Transdermal, see accompanying product package insert.
Find more content for your dairy operation.