CHORULON®
Product Description
CHORULON® is a freeze-dried preparation of chorionic gonadotropin (human Chorionic Gonadotropin or hCG) for intramuscular administration after reconstitution. When reconstituted with the accompanying sterile diluent, each 10 mL vial contains 10,000 I.U. chorionic gonadotropin (equivalent to 10,000 USP Units chorionic gonadotropin) and 10 mg mannitol, with mono- and disodium phosphate to adjust the pH of the solution.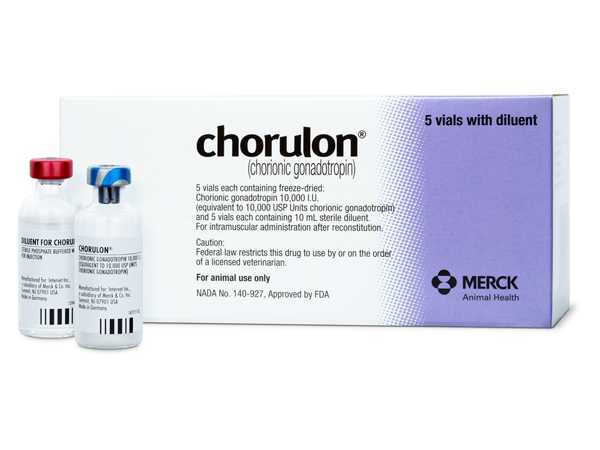 Indications
CHORULON® is indicated for intramuscular use in cows for the treatment of nymphomania (frequent or constant heat) due to cystic ovaries.
Dosage
To reconstitute, transfer the contents of one vial of sterile diluent into one vial of freeze-dried powder. The resulting 10 mL of CHORULON® contains 10,000 I.U. chorionic gonadotropin.

COWS: The contents of one vial (10 mL) of reconstituted CHORULON® should be administered as a single deep intramuscular injection. Dosage may be repeated in 14 days if the animal's behavior or rectal examination of the ovaries indicates the necessity for retreatment.
Adverse Reactions
Chorionic gonadotropin is a protein. In the unlikely event of an anaphylactic reaction, epinephrine should be administered. The administration of an antihistamine may also be indicated.
Supplied
Cartons containing five vials of freeze-dried powder and five 10 mL vials of sterile diluent.
Storage
Store at or below room temperature, 77°F (25°C). Keep out of reach of children. Once reconstituted, CHORULON® should be used immediately. Unused solution should be disposed of properly and not stored for future use.
Residue Warnings
No withdrawal period is required for cows treated according to label directions.
Contact
U.S. only: Merck Animal Health livestocktechsrvc@merck-animal-health.com or call 1-800-211-3574
For additional information, please see the product label.