GRENADE® ER INSECTICIDE
9.7% lambdacyhalothrin. A broad-spectrum premise insecticide for pest control in, on and around livestock buildings, structures and surroundings. Microencapuslated for long-lasting control of a wide variety of insects that plague surfaces.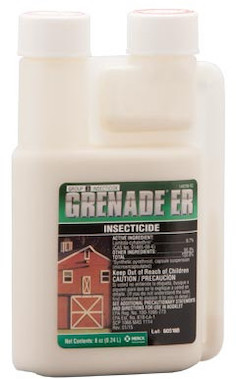 Control crawling and flying insects around animal facilities with Grenade ER. It contains the most powerful insecticide available in a premise spray.1
Advantages
Provides three months of premise protection1
Microencapsulation delays breakdown of active ingredient1
Effective on difficult-to-treat surfaces (vinyl, cement, other porous materials)1
Contains lambdacyhalothrin, the most powerful insecticide available in a premise spray1
Twice the bioactivity of other common insecticides1
For additional information, please see the product label.
References:
1. Competitive Comparison: DEMAND Versus CYONARA 9.7, http://www.syngenta-us.com/images/resource_pages/pmp/demand_ez_ss_compare.pdf, Syngenta Crop Production Inc., 2008.