ORBENIN-DC™
(cloxacillin benzathine intramammary infusion)
Product Description
Shortest required dry period with zero milk withhold post-calving.
ORBENIN-DC™ (cloxacillin benzathine intramammary infusion) delivers targeted treatment of Gram-positive bacteria with the shortest required dry period – only 28 days – and no milk withhold. So fresh cows can move into the milking string faster.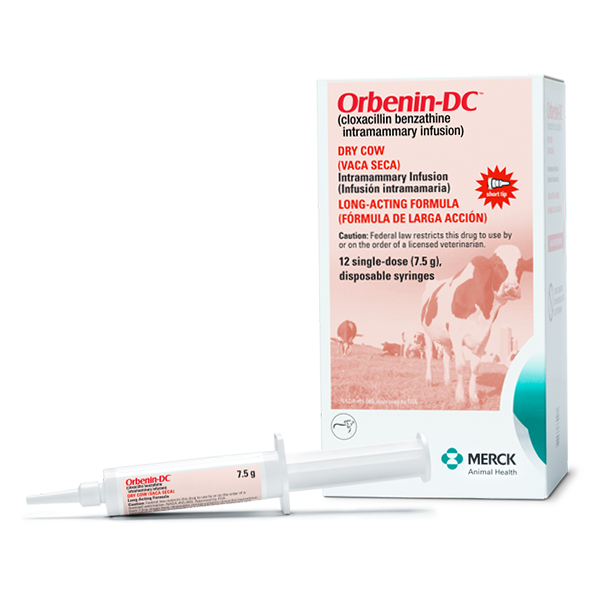 Targeting the most common type of subclinical mastitis.
More than 94% of cows with subclinical mastitis at dry-off are infected with Gram-positive bacteria (environmental staphs and streps).1,2 Gram-negative infections such as E. coli usually self-cure during lactation, making ORBENIN-DC an ideal choice at dry-off.
Key Benefits
Reduces the rate of clinical coliform mastitis 2.4-fold greater than ENVIRACOR® J-5 during the first 100 days of lactation.2
The greatest difference in efficacy over ENVIRACOR J-5 was in cows at higher risk – those third lactation and higher.2
No negative effect on milk production.2

Indications
Orbenin-DC is indicated in the treatment and prophylaxis of bovine mastitis in nonlactating cows due to Staphylococcus aureus and Streptococcus agalactiae.
Contraindications
Because cloxacillin benzathine is relatively insoluble, Orbenin-DC's activity will be prolonged. Therefore, Orbenin-DC should not be used for the occasional cow which may have a dry period of less than 4 weeks. This precaution will avoid residues in the milk following removal of the colostrum.
Precautions
Because it is a derivative of 6-amino-penicillanic acid, Orbenin-DC has the potential for producing allergic reactions. Such reactions are rare; however, should they occur, the subject should be treated with the usual agents (antihistamines, pressor amines).
Dosage
At the last milking of lactation, milk the cow out normally. Clean and disinfect the teats with alcohol swabs provided in the carton or pail, and infuse 1 syringe of Orbenin-DC, which has been warmed to room temperature, into each quarter. Do not milk out. The cow may be milked as usual when she calves.
The extent of subclinical and latent mastitis in a herd is frequently greater than suspected. In untreated herds a significant buildup of subclinical mastitis may occur during the dry period, which results in clinical severity after a few lactations. The adverse influence of subclinical mastitis on milk yield, the risk of cross-infection, and the chance of clinical mastitis flare-up make it necessary to treat the matter as a herd problem. Clinical studies have proven the value of treating all the cows in heavily infected herds as they are dried off. When the herd infection has been reduced, it may be desirable to be more selective in treating infected quarters.
Each carton contains 12 alcohol swabs to facilitate proper cleaning and disinfecting of the teat orifice.
Each pail contains 144 alcohol wipes to facilitate proper cleaning and disinfecting of the teat orifice.
Infuse one tube of ORBENIN-DC, warmed to room temperature, into each quarter.
Syringes have a short tip for fewer intramammary infections.

Compared to full insertion, partial insertion has been shown to reduce new infection risk by 50%.3
Supplied
Cartons of 12 single-dose (7.5 g), disposable syringes with 12 alcohol swabs.
Pails of 144 single dose (7.5 g), disposable syringes with 144 alcohol wipes.
Each disposable syringe contains 500 mg of cloxacillin as the benzathine salt in 7.5 g of suitable base.
Storage
Do Not Store Above 24°C (75°F)
Warnings
For use in dry cows only. Do not use within 4 weeks (28 days) of calving. Treated animals must not be slaughtered for food purposes within 4 weeks (28 days) of treatment.
Research
ORBENIN-DC is an intramammary infusion containing benzathine cloxacillin that targets Gram-positive bacteria.
Research has shown that ORBENIN-DC is as effective as leading competitors in treating and preventing mastitis in dry cows.
Cow-level performance of ORBENIN-DC vs. SPECTRAMAST® DC
This non-inferiority study found no difference based on clinical mastitis, somatic cell count, reproductive performance and milk production.
Contact
U.S. only: Merck Animal Health livestocktechsrvc@merck-animal-health.com or call 1-800-211-3574
For more information regarding efficacy and safety data, go to productdata.aphis.usda.gov
For additional information, please see the product label.
References
1. Johnson AP, et al. Randomized noninferiority study evaluating the efficacy of 2 commercial dry cow mastitis formulations. J Dairy Sci. 2016;99:593-607.
2. Aruda AG, et al. Randomized noninferiority clinical trial evaluating 3 commercial dry cow mastitis preparations, Part 1. J Dairy Sci. 2013;96:4419-4435.
3. Nickerson, SC. Dec. 1, 1987. Resistance Mechanisms of the Bovine Udder: New Implications for Mastitis Control at the Teat End. J Am Vet Med Assoc. 191(11):1484-8.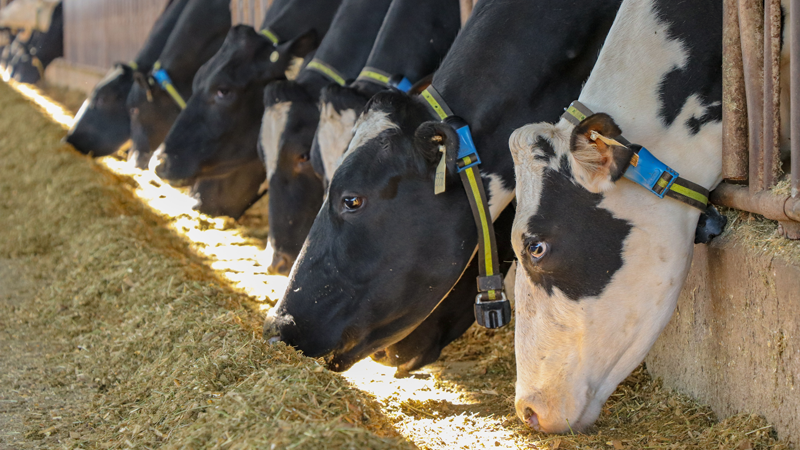 The dry period is an important time to minimize mastitis risk and vaccinate cows to protect their calves from scours. Give your dry cows the complete care they deserve.

Sign up to receive cattle health management insights, industry news and more sent straight to your inbox.