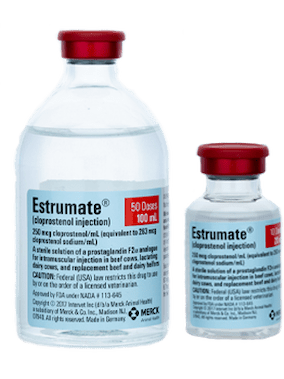 For intramuscular use to induce luteolysis in beef and dairy cattle.
(cloprostenol injection)
Downloads
Estrumate is used as a luteolytic agent in cattle. The luteolytic action of Estrumate can be utilized to manipulate the estrous cycle to better fit certain management practices, terminal pregnancies resulting from mismatings, and to treat certain conditions associated with prolonged luteal function.
Fair Balance
At 50 and 100 times the recommended dose, mild side effects may be detected in some cattle; these include increased uneasiness, slight frothing, and milk let-down. For complete information on use, withdrawal period, contraindication, adverse reactions, refer to product package insert.
For additional information, please see the product label.