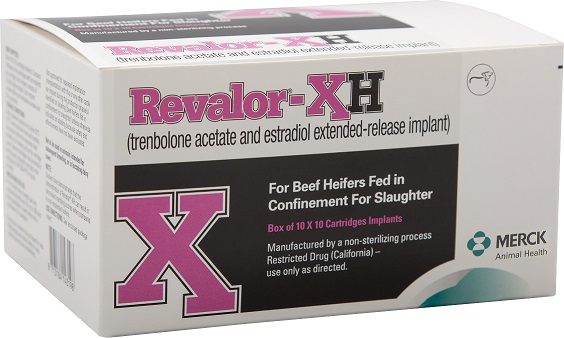 A one-time, heifer-only implant that starts working immediately and lasts up to 200 days.
(trenbolone acetate and estradiol extended-release implant)
Downloads
Overview
Revalor-XH is an implant containing 200 mg of trenbolone acetate and 20 mg of estradiol. It is designed for heifers fed in confinement and provides two doses in a single implant. The first dose, designed to be given when cattle are processed, is effective immediately, while the second dose, shielded by patented X7™ polymer coating, goes to work 70 to 80 days later without the need to re-process the cattle. Each implant consists of 10 small yellow pellets and each cartridge contains 10 implants.
Product Features
Not only is Revalor-XH a long-lasting heifer-only implant, but it is also a fast-acting implant that eliminates the need to re-process the cattle. Revalor-XH will start working immediately with the four uncoated pellets, then the six coated pellets go to work ~70-80 days later and will keep working up to 200 days.
Indications
Revalor-XH is indicated for increased rate of weight gain and improved feed efficiency for up to 200 days after implantation in beef heifers fed in confinement for slaughter. Do not use in calves to be processed for veal. Effectiveness and animal safety in veal calves have not been established. Not approved for repeated implantation (reimplantation) with this or any other cattle ear implant during the production phase(s) identified on labeling [beef heifers fed in confinement for slaughter] unless otherwise indicated on labeling because safety and effectiveness have not been evaluated. Not to be used in animals intended for subsequent breeding, or in lactating dairy cows.
Note: dStudies have demonstrated that the administration of Revalor®-XH can result in decreased marbling scores when compared to non-implanted heifers.
Administration and Dosage
Supplied in a cartridge of 10 doses of 10 pellets each in a sealed foil pouch. Store unopened product at or below 25°C (77°F). Avoid excessive heat and humidity. Open cartridges may be stored in the foil pouch protected from light in the refrigerator (2-8°C/36-47°F) for up to six months.
Route of Administration
The cartridge is designed to be used with a special implanting tool which is available from Intervet, Inc. The implant is placed under the skin on the posterior aspect of the ear. With the animal suitably restrained, the skin on the outer surface of the ear should be cleaned.
Withdrawal Periods and Residue Warnings
No withdrawal period is required when used according to labeling. Do not use in calves to be processed for veal. A withdrawal period has not been established for this product in pre-ruminating calves. Do not use in lactating dairy cows or in animals intended for subsequent breeding. Use in these cattle may cause drug residues in milk and/or in calves born to these cows. Administer implant subcutaneously in the ear only. Any other location is in violation of Federal Law. Do not attempt salvage of implanted site for human or animal food. Not for Use in Humans. Keep this and all drugs out of the reach of children.