Building trust in intranasal vaccination
Establishing an early foundation of protection against bovine respiratory disease (BRD) is why dairy veterinarians and producers choose intranasal vaccination for young calves.

Veterinarian Luke Thole and calf raiser J Hall are among those who depend on BOVILIS® NASALGEN® 3, an intranasal BRD vaccine for cattle from Merck Animal Health. A new formulation, BOVILIS® NASALGEN® 3-PMH, now provides protection against five of the major causes of viral and bacterial pneumonia in one dose – including IBR, BRSV, PI3 and Pasteurella multocida and Mannheimia haemolytica.

Thole serves a diverse clientele that includes dairy, cow-calf and feedlot operations. He likes the immune response and easy administration of BOVILIS NASALGEN 3, especially when vaccinating young calves.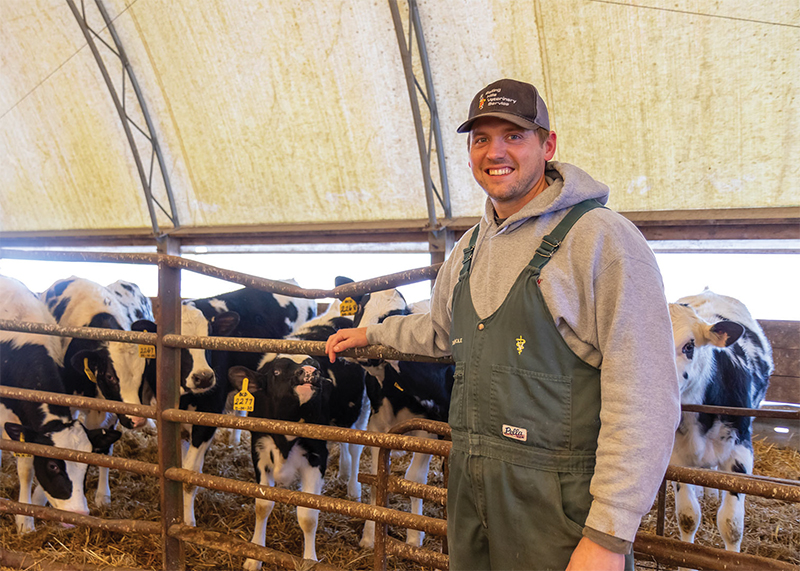 "Maternal antibodies from the cow's colostrum will fully or partially block injectable vaccines. With BOVILIS NASALGEN 3, you do not have that issue1," he says.

Thole adds that intranasal vaccines put less stress on calves compared with injectable vaccines. "I also think we get a quicker immune response with BOVILIS NASALGEN 3."

For his dairy clients, Thole typically administers BOVILIS NASALGEN 3 to dairy calves at one week of age, following label directions. Depending on the dairy, he boosters BOVILIS NASALGEN 3 when calves are about five weeks old, three weeks prior to weaning and moving to group housing.

Further to the east, J Hall and his wife Marlene raise newborn dairy calves up to five months of age at Halls Calf Ranch locations in Luxemburg, Wisconsin, and Gladwin, Michigan. BOVILIS NASALGEN 3 is part of the program for incoming calves.

"Before we pick up a calf, we ask that it has been given a gallon of colostrum, had its navel dipped, been tagged and is being kept in a clean, dry place. We also want that calf to have been given BOVILIS NASALGEN 3," Hall says. "It allows for a strong, early immune response since the vaccine goes directly to the mucosal surfaces of the nose. The calves look better, and they do better."

Hall boosters with BOVILIS NASALGEN when calves move from hutches to the barn. The intranasal administration avoids exacerbating what's already a stressful time for calves.

The calf raiser also appreciates the blue diluent that confirms proper vaccine administration.

"It makes a little tint on the calf's nose, so you know it's been treated," he says.

To learn more about the newest options in intranasal respiratory vaccines, visit Nasalgen.com or contact your Merck Animal Health representative.
References
1. Merck Animal Health Study MS-N3PMH-3-19: Efficacy of vaccination in colostrum fed 7-day old calves when using multivalent intranasal vaccine in the face of maternal antibody.
Find more content for your dairy operation.