Implant today,
impact tomorrow.
Cattle producers have always worked to do right by their cattle and take care of the land. In today's climate, doing that is more complicated than ever before. It's a delicate act of balancing the pressure of environmental sustainability with economic viability – all while working to feed the world.


Cattle implants boost productivity and revenue while helping important natural resources go further.
Implanting is one of the most researched, proven and consistent technologies that can improve margins for producers. Cattle implants also improve sustainability by reducing the amount of natural resources cattle require, lessening the environmental footprint. This helps keep high-quality beef affordable for consumers. As a good steward of the land, these are all things you can take pride in.

"By providing a growth-promoting implant, we can improve feed to gain by approximately 13 percent. That's a big number. And when you multiply that over the millions of cattle, and the number of years that technology has been around, we have made more and more food for humans out of the feed resources that this nation provides. That's a sustainable message and history."
---
Ty Lawrence, Ph.D., West Texas A&M University
Good for the environment.
Growth promotants like cattle implants help reduce greenhouse gas (GHG) emissions per unit of beef produced by cattle operations. They also reduce the natural resources required to raise cattle – as they lessen the time it takes for cattle to reach the next phase.1,2

Operations that use cattle implants:1,2

With numbers like this, it's easy to see the positive impact cattle implants can have on the environment.
Good for the bottom line.
Who knew something that's good for the planet can also be good for your bottom line? From increased weaning weights and weight gain to improved feed efficiency and more, cattle implants are a heavily researched tool proven to boost ROI.

ADDED GAIN
Suckling calves implanted with RALGRO® (zeranol) demonstrate a 23-lb. weaning weight advantage over non-implanted calves.4 And although 23 lbs. is the average, data shows weaning weights can actually increase by as much as 35 lbs.

---
Cattle on grass implanted with REVALOR-G® (trenbolone acetate and estradiol) gain an average of an extra 23 lbs. and maintain the added weight during the finishing period.5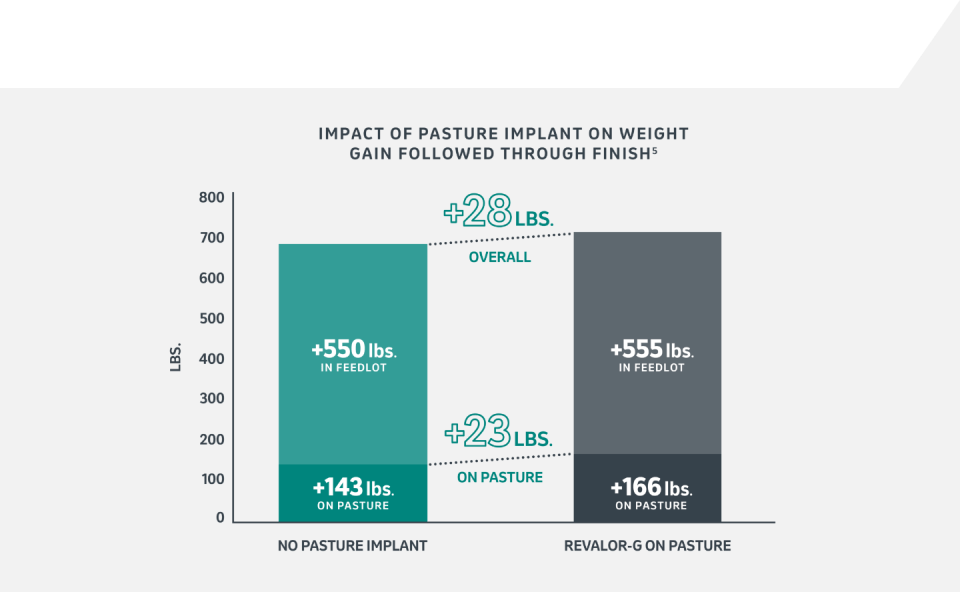 Learn more about sustainability-supporting cattle implants from Merck Animal Health.
IMPROVED PERFORMANCE
During the growyard phase, implanted calves see increased average daily gain (ADG) as well as improved feed efficiency.6 Additionally, a pasture implant like REVALOR-G can help ensure this performance is maintained throughout the entire 150-day grazing period.

Two separate studies also showed that even implanted cattle grazing on low-nutrition, dormant winter pasture significantly outgained those not implanted – helping cattle to perform when conditions are less than ideal.7,8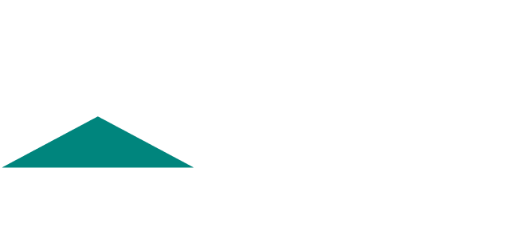 STRONG ROI
Implanted calves bring more come sale day too. A Superior Livestock data analysis across nine years consistently shows no difference in sale price per hundredweight between implanted calves and non-implanted calves.9 With roughly the same price per pound, it pays to be the producer with the heavier calf crop.
---
In today's market, cattle implants simply pay off.
For an investment of approximately $1.50 per head, implants like RALGRO result in a $30-$50 increase in calf value.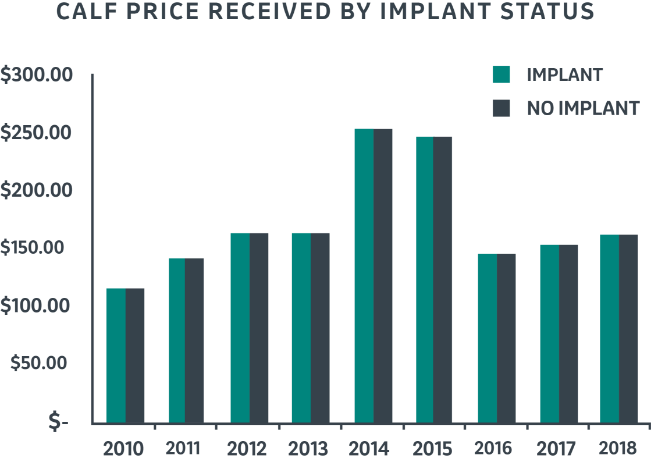 An industry-wide commitment.
When it comes to sustainable beef production, producers in the United States are the global leaders. The National Cattlemen's Beef Association has doubled down on the industry's commitment to sustainability of all kinds by outlining tangible goals for the future. The NCBA sustainability-driven goals include:

Demonstrate climate neutrality of U.S. cattle production by 2040.

Create and enhance opportunities that result in a quantifiable increase in producer profitability and economic sustainability by 2025.

Enhance trust in cattle producers as responsible stewards of their animals and resources by expanding education opportunities in animal care and handling programs to further improve animal well-being.

Continuously improve the industry's workforce safety and well-being.
"Implant Today, Impact Tomorrow" Producer Panel
At NCBA 2022, a group of producers came together to discuss the impact of cattle implants on the industry as well as the opportunity they bring for improved sustainability overall.

The gold standard in calf implants.
For more than 50 years, RALGRO has been known for heavier weaning weights that deliver greater revenue in calf crops. See all the ways a cattle implant like RALGRO can benefit your herd.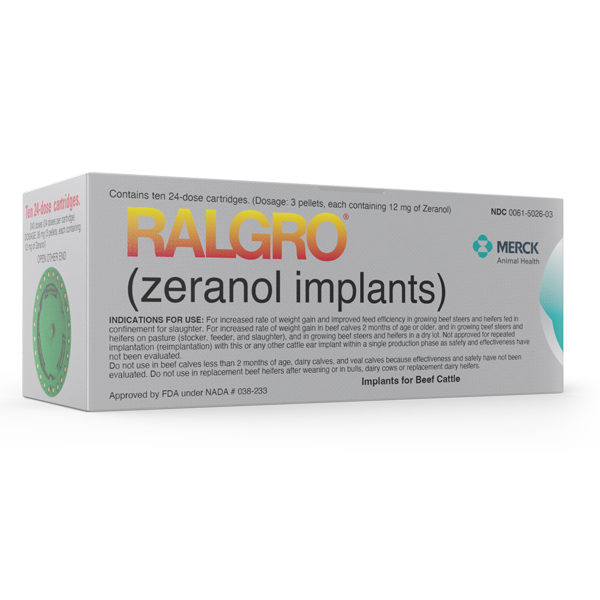 The #1 choice in stocker implants.10
Used in more stocker cattle than any other brand, REVALOR-G can help grow your animals and your revenue. See what the cattle implant designed just for stockers can bring to your operation.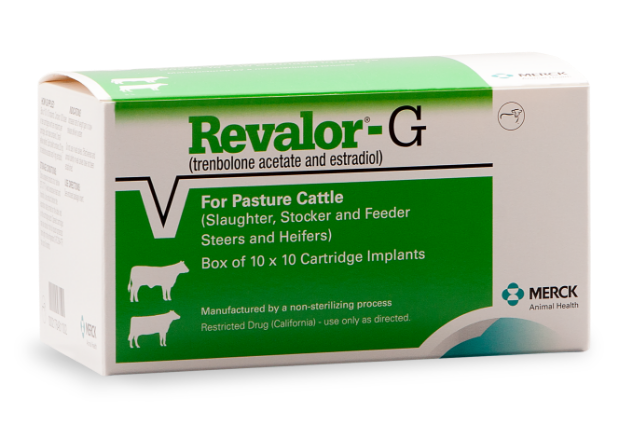 1Capper JL, et al. The environmental and economic impact of removing growth-enhancing technologies from U.S. beef production. J Anim Sci. 2012;90:3527-3537.
2Cooprider KL, et al. Feedlot efficiency implications on greenhouse gas emissions and sustainability. J Anim Sci. 2011;89:2643-2656.
3VanOverbeke, et al. Effects of beef production system on animal performance and carcass characteristics. J Anim Sci. 2014;92:5727-5738.
4Capper JL, et al. The environmental and economic impact of steroid implant and beta-adrenergic agonist use within US beef production. In: Proceedings of the ASDA-ASAS Joint Annual Meeting, Indianapolis, IN, USA.
5Data on file, Merck Animal Health.
6Pritchard, 1999.
7Ackerman CJ, et al. Effect of a Revalor-G Implant and Source of Supplemental Protein on Weight Gain of Steers Wintered on Dormant Tallgrass Prairie or Old World Bluestem. 1997 Research Report. Oklahoma State University Department of Animal and Food Sciences. Available at: http://afs.okstate.edu/research_reports/1997rr/015.htm. Accessed July 16, 2019.
8Paisley SI, et al. Effects of Implants on Daily Gains of Steers Wintered on Dormant Native Tallgrass Prairie, Subsequent Performance and Carcass Characteristics. J Anim Sci. 1099;77:291-299.
9Superior Livestock Auction data, 2014-2018.
10Animalytix Market Data.
RALGRO IMPORTANT SAFETY INFORMATION: A withdrawal period has not been established for RALGRO in pre-ruminating calves. Do not use in calves to be processed for veal. For complete information, refer to product label.
REVALOR-G IMPORTANT SAFETY INFORMATION: Not to be used in animals intended for breeding, dairy animals, or veal calves. Implant in ear only. Any other location is in violation of Federal Law. Do not salvage implanted site for human or animal food. A withdrawal period has not been established for this product in pre-ruminating calves. Not for use in humans. For complete safety information, refer to product label.

Sign up to receive cattle health management insights, industry news and more sent straight to your inbox.