New antibiotic option for BRD, pinkeye and foot rot now available
Merck Animal Health has received U.S. FDA approval of AROVYN™ (tulathromycin injection) – a broad-spectrum, prescription antibiotic that treats the major organisms associated with bovine respiratory disease (BRD), foot rot and pinkeye. AROVYN gives veterinarians a new option when prescribing tulathromycin – which is proven to help treat some of the most common and costly cattle disease challenges.

In beef and non-lactating dairy cattle, AROVYN is indicated for the treatment of BRD and control of respiratory disease in animals at high risk of developing BRD associated with Mannheimia haemolytica, Pasteurella multocida, Histophilus somni and Mycoplasma bovis.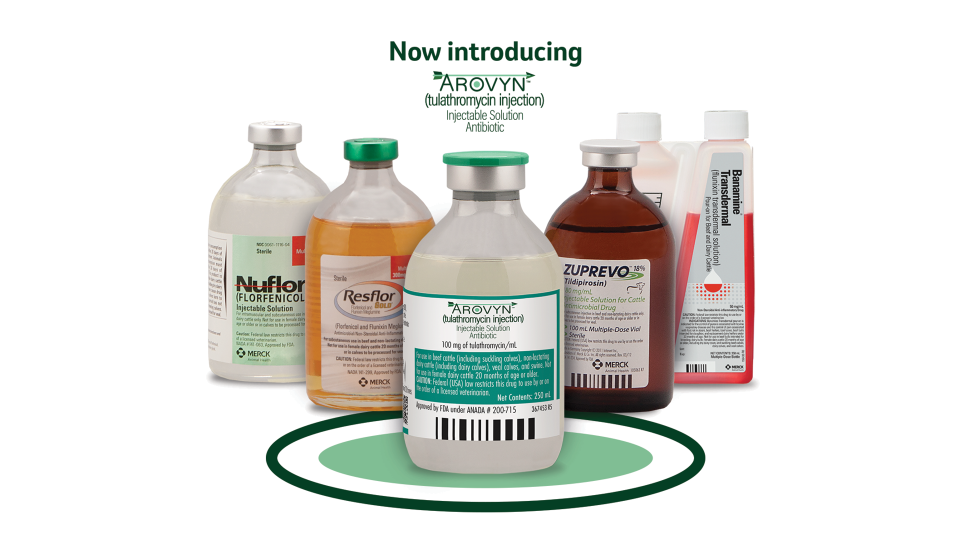 It also is approved for treatment of pinkeye or infectious bovine keratoconjunctivitis (IBK) associated with Moraxella bovis, plus treatment of foot rot associated with Fusobacterium necrophorum and Porphyromonas levii. In suckling calves, dairy calves and veal calves, AROVYN is indicated for treatment of BRD associated with M. haemolytica, P. multocida, H. somni and M. bovis.
AROVYN is approved for cattle and swine and comes in 50-, 100-, 250- and 500-mL vials. It is manufactured in the same facility as other Merck Animal Health antimicrobials, such as ZUPREVO® (tildipirosin), with the same high quality assurance guidelines.
To learn more about AROVYN, visit https://www.merck-animal-health-usa.com/species/cattle/arovyn.
IMPORTANT SAFETY INFORMATION:
CATTLE: AROVYN has a pre-slaughter withdrawal time of 18 days in cattle. Do not use in female dairy cattle 20 months of age or older. Do not use in animals known to be hypersensitive to the product. See full Prescribing Information.
SWINE: The pre-slaughter withdrawal time for AROVYN in swine is five days. AROVYN should not be used in animals known to be hypersensitive to the product.
Find more content for your beef operation.