New mobile app for Allflex DataFlow™ II System delivers real-time cow monitoring data from anywhere
Merck Animal Health announced the launch of the Allflex DataFlow™ II System mobile app as well as several other technology enhancements as part of its ongoing effort to help dairy producers manage cows better and more efficiently.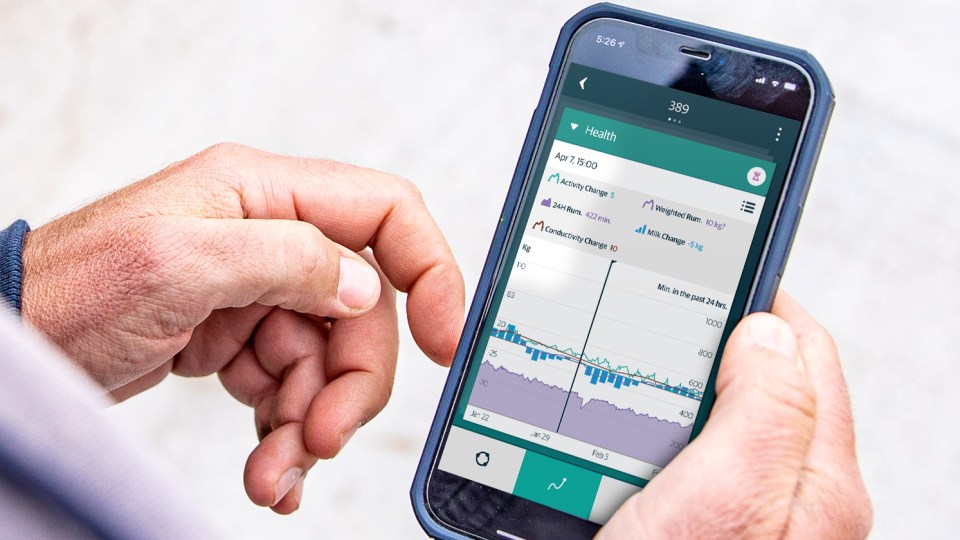 New app puts information at producers' fingertips
The new Allflex DataFlow II System app allows users to view information in real time on their phones without having to return to the farm office to access data on a computer.

"With an easy to use, simple interface, the Allflex DataFlow II app delivers the information that dairy producers need, when they need it," said Brandt Kreuscher, dairy business development manager, livestock intelligence, North America, Merck Animal Health. "With parlor and monitoring data coming to the app from cows' Allflex collars or ear tags, users have access to the most accurate and timely cow and milking information every time they use the app."
Current, accurate herd data
With the Allflex Data Flow II System app, dairy operators can more quickly identify cows that need attention, make better herd health decisions and increase efficiency in daily management tasks.

App users can view parlor performance data, detect cows in heat and quickly find other specific animal-related information from anywhere – even while away from the farm. The app makes it even easier to use the Allflex Data Flow II system to save time and labor, improve animal care and enhance production overall.

The app integrates with the Allflex DataFlow II System on the producer's desktop. Like the desktop system, the app delivers daily reports to users, detailing cows needing action or attention based on critical data the system collects. Customized reports show specific data, such as Allflex milking parlor performance, health alerts, reproduction insights and heat detection.

In addition, dairy managers can also look up specific animals they observe needing attention and assign actions accordingly from the app for quicker and easier decision making. For example, if a manager spots a cow with potential signs of lameness, he or she can use the app to immediately assign the cow for evaluation during the next visit by the hoof trimmer.
Automatic sorting feature
Not only are app users able to view important herd information, but with Allflex sort gate integrations, they can also sort cows right from the app.

"Being able to automatically pull an animal for management is a huge time savings for producers," said Kreuscher. "Whether that animal has a health issue or needs to be held for any reason, Allflex automatic sort technology allows workers to manage quick sorting from their phones."

One dairy operation using the Allflex Data Flow II app's sort gate integration feature is Oakridge Dairy of Ellington, Connecticut, the largest dairy farm in the state. David Mosher, herd manager, appreciates the time savings.

"If a cow is flagged as a health alert or needs to be held for any reason in the parlor, we can assign the cow to sort directly from the app," Mosher said. "This way we don't have cows waiting for hours in the sorting area."

The new app is now available for download from the Apple Store or Google Play for users on the Allflex DataFlow II System, version 20.3. The livestock intelligence technical support team will assist in app integration for producers on versions 19.0 and older.
Additional Allflex monitoring enhancements now available
In addition, Merck Animal Health announced these enhancements to its other Allflex cow monitoring technologies:
New low battery alert for the Allflex Flex V2, an LED-enabled ear tag introduced in 2021. A flashing light on the Flex V2 tag allows dairy workers to quickly identify specific animals immediately – even in a large group – to minimize disruptions and save time and labor involved with searching for target cows. Now the Allflex Flex V2 tag maintenance report incorporates a red icon that indicates when a battery reaches "critical battery stage," allowing producers to replace the monitoring tag in a timely fashion. This new feature ensures there is no gap in monitoring due to a dead battery.
SenseHub® Dairy custom report generator, a new feature in the Wi-Fi-enabled Allflex cow monitoring system. The report generator allows producers to customize reports to meet their individual management needs. 
Built-in training with new SenseHub Discovery simplifies SenseHub Dairy system onboarding with detailed information and instructions built into the app as a feature. Users can quickly and easily understand the different tools and functionality through self-guided learning, saving time and increasing the comfort level for workers and managers using the system for the first time.
"These upgrades are in direct response to feedback from our customers," said Kreuscher. "While we are experiencing unprecedented demand for Allflex monitoring systems, we continually work to meet customer needs and exceed their expectations. Dairy producers can expect ongoing innovation from us as part of our leadership role in delivering best in class, solution-driven technology to this industry."

For more information on the complete Allflex monitoring portfolio from Merck Animal Health, go to MAHcattle.com.
Find more content for your dairy operation.