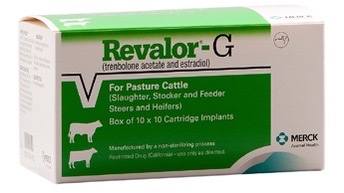 REVALOR-G is for use in pasture cattle (slaughter, stocker, and feeder steers and heifers) Contains 40 mg of trenbolone acetate/dose and 8 mg of estradiol/dose.
Revalor is for both pasture steers and heifers with no need to switch products, and is effective in all types of forage. There's less risk and more value: it is administered once calves are weaned and turned onto grass, to get more out of marginal pasture situations before green-ups.
Increases ADG even at lower weight gains1
No difference in feedyard performance or carcass quality
Effective for at least 120 days
Supplied
Code: 125191
Box of 2 x 10 cartridge implants
Code: 126547
Box of 10 x 10 cartridge implants
Fair Balance
A withdrawal period has not been established for Revalor-G in pre-ruminating calves. Do not use in calves to be processed for veal.
For additional information, please see the product label.
References:
Ackermen, et. all; Paisley, et. all; 1997.