IMIZOL®
A sterile solution containing imidocarb dipropionate for the treatment of dogs with clinical signs of babesiosis and/or demonstrated Babesia organisms in the blood.
(imidocarb dipropionate)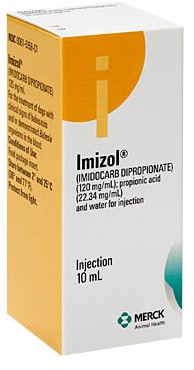 Pharmaceutical Name
Imidocarb Dipropionate for Injection
Features and Benefits
Two treatments two weeks apart
Simplifies treatment regimen
Injectable administration keeps the treatment under your control.
Eliminates the issue of treatment compliance.
Intramuscular or subcutaneous administration
Provides more versatility
Low volume dose treatment (3mg/lb), 100 lb dog requires only 2.5 mL of IMIZOL per injection. Makes it cost effective and practical.
Fair Balance
NOT FOR HUMAN USE. KEEP THIS AND ALL DRUGS OUT OF THE REACH OF CHILDREN. MUST NOT BE ADMINISTERED INTRAVENOUSLY. The safety and effectiveness of imidocarb have not been determined in puppies or in breeding, lactating, or pregnant animals. Risk versus benefit should be considered before using this drug in dogs with impaired lung, liver, or kidney function. Do not use this product simultaneously with exposure to cholinesterase inhibiting drugs, pesticides, or chemicals. For complete safety information, refer to product label and Merck Animal Health website.
For additional information, please see the product label.