Canine Parvovirosis
CPV-2 is a highly contagious disease that attacks the gastrointestinal tract.
Disease Overview
Canine parvovirus type 2 (CPV-2) attacks the gastrointestinal tract of puppies and dogs. There are 3 variants of the virus, CPV-2a, CPV-2b, and CPV-2c, which evolved only a few years after the first antigenic variants were discovered.
CANINE PARVOVIROSIS FAST FACTS
The first strains of CPV-2 emerged in the late 1970s.
Death can occur as early as 2 days after the onset of illness.35
The most recent variant (CPV-2c) was first identified in Europe, followed by many other countries.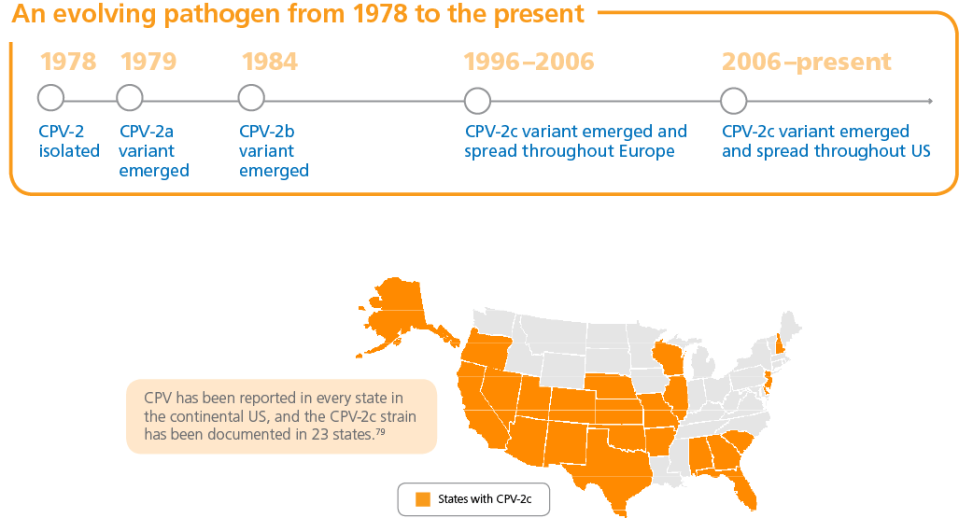 TRANSMISSION
CPV-2 is transmitted by direct and indirect contact:
Contaminated surfaces
Food and water bowls
Collars and leashes
Hands and clothing of people who touch a CPV-2–infected dog35
CLINICAL SIGNS
Lethargy
Loss of appetite
Fever
Vomiting
Severe, and often bloody, diarrhea
DOGS AT RISK
Young dogs
Dogs that come from shelters, rescue centers, breeding kennels, or pet stores
Boarding at a kennel or doggie daycare
Visiting groomers, dog parks, or engaging with other dogs on a daily basis
Dogs that live in multiple pet homes
MORBIDITY THREATS
Lymphopenia and neutropenia develop secondary to destruction of hematopoietic progenitor cells in the bone marrow and lymphopoietic tissues.
Infection in utero or in pups less than 8 weeks of age can result in myocardial infection, necrosis, and myocarditis.
Severely affected animals may present signs potentially consistent with septic shock.
SPREADING DISEASE
Canine Parvovirosis is shed:
In the feces of infected dogs within 4–5 days of exposure
Throughout the period of illness
For approximately 10 days after clinical recovery
CPV-2 is one of the most resistant viruses to infect dogs:
The virus can remain persist indoors at room temperature for a few weeks
If protected from sunlight and desiccation, it can persist for many months
DIAGNOSIS
CPV-2 enteritis should be suspected in any young, unvaccinated, or incompletely vaccinated dog with relevant clinical signs.
Over the course of the illness, most dogs develop a moderate to severe leukopenia characterized by lymphopenia and neutropenia.
Merck Animal Health Vaccines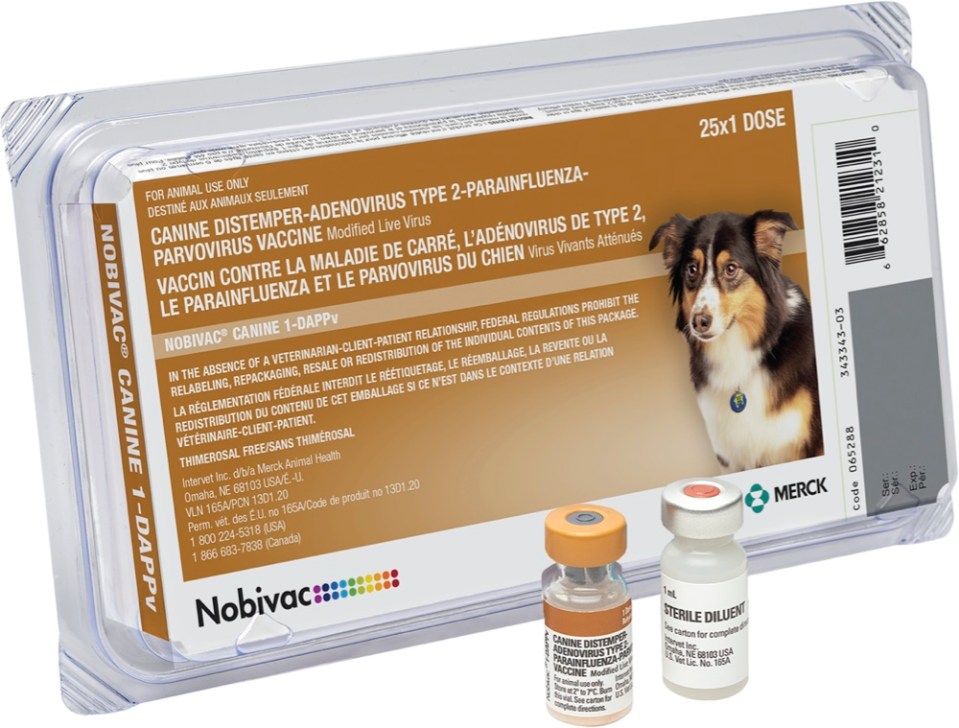 NOBIVAC® CANINE 1-DAPPv
A vaccine recommended for use in healthy dogs as an aid in the prevention of disease caused by canine distemper virus, adenovirus type 1 (hepatitis) and adenovirus type 2 (respiratory disease), canine parainfluenza virus, and canine parvovirus.
ALSO AVAILABLE INOTHER FORMULATIONS
Professional Resources and Educational Materials
Keep your clinic and staff informed and aware of diseases and outbreaks.
Nobivac® Social Media Kits
Digital Assets
Use these ready-to-share posts to educate pet parents and drive business to your clinic for preventative care.
AAHA Canine Vaccination Guidelines
SOP
In-depth information about canine vaccinations and veterinary best practices.
Quick Guide to Lepto
eBook
A handy guide to protect dogs and prevent the spread of leptospirosis.
References: