Canine 1-DAPPvL2+Cv
Provides protection for commonly spread canine viruses in one, easy-to-dose vaccine.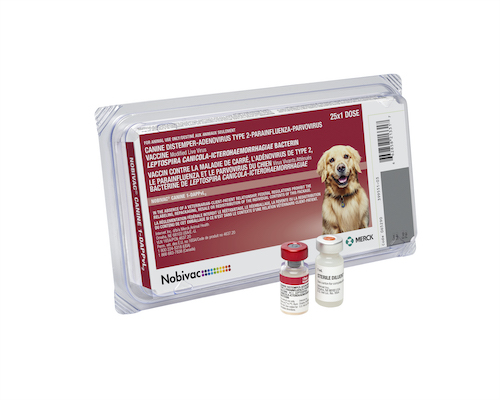 CANINE 1-DAPPVL2+CV PROVIDES PROTECTION AGAINST COMMON VIRUSES
Canine Distemper Virus, Canine Adenovirus 2, Canine Parainfluenza Virus, Canine Parvovirus (modified live viruses), Coronavirus (inactivated virus) and Leptospira Canicola-Icterohaemorrhagiae(inactivated bacterin).
Protects against all known strains of canine parvovirus (CPV), including CPV-2c2,3

Contains CPV-2b, one of the most prevalent field strains of parvovirus
High antigenic mass (titer), low passage parvovirus vaccine
Overrides maternal antibodies in young puppies1

Defends against 2 strains of Leptospira: L. canicola and L. icterohaemorrhagiae
Protects against 2 types of adenovirus that cause hepatitis and respiratory disease in dogs
Provides disease coverage for commonly spread canine viruses, coronavirus, distemper, adenoviruses types 1 and 2, parainfluenza and parvovirus, in 1 formula
INDICATIONS:
Approved for the vaccination of healthy dogs as an aid in the prevention of disease caused by canine distemper, adenovirus types 1 and 2, coronavirus, parainfluenza, parvovirus, and leptospiral disease due to L. canicola or L. icterohaemorrhagiae.
Recommended for use in healthy dogs 6 weeks of age or older.
ADMINISTRATION AND DOSAGE
Subcutaneous or intramuscular injection
Two 1 mL doses given 2 to 4 weeks apart
Repeat at 2 to 4 week intervals until the dog is 12 weeks of age
Annual revaccination with 1 dose is recommended
Available in a 25 x 1 mL dose presentation
ALSO AVAILABLE IN OTHER FORMULATIONS
Professional Resources and Educational Materials
Keep your clinic and staff informed and aware of diseases and outbreaks.
Quick Guide to Lepto
eBook
A handy guide to protect dogs and prevent the spread of leptospirosis.
Nobivac® Social Media Kits
Digital Assets
Use these ready-to-share posts to educate pet parents and drive business to your clinic for preventative care.
AAHA Canine Vaccination Guidelines
In-depth information about canine vaccinations and veterinary best practices.
References: