Canine 1-Pv
A proven method for protecting dogs against all strains of canine parvovirus.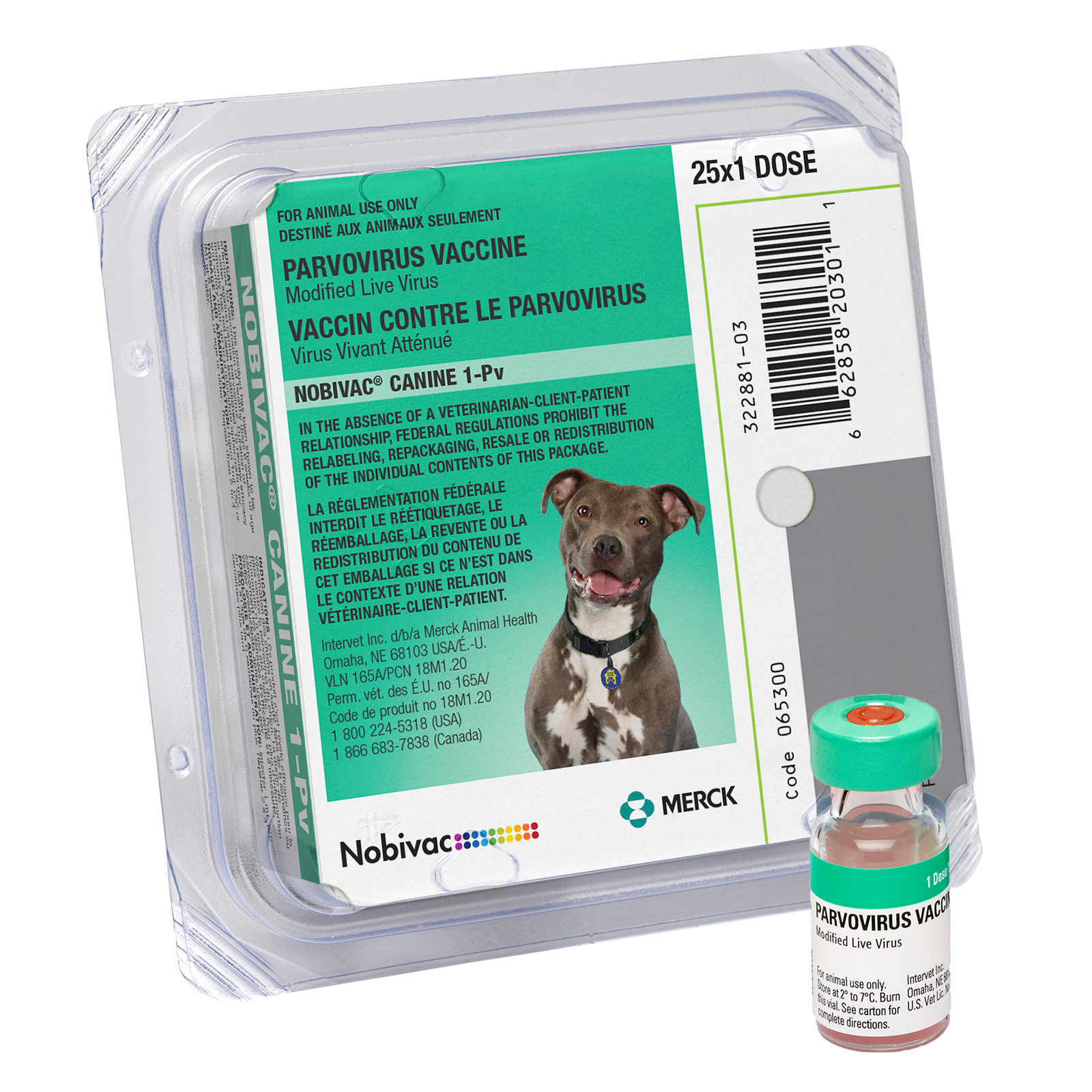 NOBIVAC® CANINE 1-Pv PROVIDES PROTECTION AGAINST CPV
Canine Parvovirus (modified live virus).
Protects against all known CPV strains, including CPV-2c2,3

Contains CPV-2b, one of the most prevalent field strains of parvovirus

First to publish data showing protection against CPV-2c challenge2
Study showed no clinical signs of infection in vaccinated puppies after challenge with mixed CPV-2b and CPV-2c strains2
High antigenic mass (titer), low passage vaccine protects against all field strains currently seen
Multiple studies demonstrate the ability to override maternal antibodies1
INDICATIONS:
Shown to be effective for vaccination of healthy dogs 6 weeks of age or older against canine parvovirus.
EFFICACY & COMPARISONS
Nobivac® vaccines have been demonstrated in multiple studies to override maternal antibodies.1
Demonstrated to induce 100% seroconversion to CPV after the first round of vaccination at 6 weeks of age1
Maternal antibodies can interfere with vaccination
Interfering maternally derived antibodies are a primary cause of vaccine failure9
Puppies may be susceptible if the level of antibodies to CPV is sufficient to cause failure but insufficient to provide protection9
A vaccine that does not override maternal antibodies can make vaccination scheduling difficult9
ADMINISTRATION AND DOSAGE
Subcutaneous or intramuscular injection
Two 1 mL doses given 2 to 4 weeks apart
Repeat dose 2 to 4 weeks later. Two doses are required for primary immunization.
Historically, annual revaccination has been recommended for this product. The need for this booster has not been established. For more information on revaccination frequency, in general or in the face of maternal antibody, consult your veterinarian or the manufacturer.
Available in a 25 x 1 mL dose presentation
ALSO AVAILABLE IN OTHER FORMULATIONS
Professional Resources and Educational Materials
Keep your clinic and staff informed and aware of diseases and outbreaks.
Quick Guide to Lepto
eBook
A handy guide to protect dogs and prevent the spread of leptospirosis.
Nobivac® Social Media Kits
Digital Assets
Use these ready-to-share posts to educate pet parents and drive business to your clinic for preventative care.
AAHA Canine Vaccination Guidelines
SOP
In-depth information about canine vaccinations and veterinary best practices.