Canine Infectious Respiratory Disease Complex (CIRDC)
Canine Infectious Respiratory Disease Complex (CIRDC), also known as infectious tracheobronchitis or canine cough, is commonly seen where dogs are in close contact with each other.
Disease Overview
CIRDC is a highly contagious multifactorial disease characterized by acute or chronic inflammation of the trachea and bronchial airways.
The disease can spread rapidly among susceptible dogs housed in close confinement and signs can persist for many weeks.
CIRDC FAST FACTS
Concurrent infections with several viral and bacterial agents is common.
Canine respiratory coronavirus and canine pneumovirus have also been implicated in CIRDC.
CLINICAL SIGNS
Harsh, dry coughing fits
Retching and gagging
Possible partial anorexia
DOGS AT RISK
More commonly seen with dogs in close proximity:
Boarding kennels
Doggie daycares
Rescue centers
Dog parks
Dog events
Groomers
Exposure to the following produces increases susceptibility and severity:
Stress
Extremes in temperature and humidity, and poor ventilation
MORBIDITY THREATS
During the acute and subacute inflammatory stages, the air passages are filled with frothy, serous, or mucopurulent exudate.
Development of more severe signs indicates bronchopneumonia or a complicating systemic infection:
Fever
Nasal discharge
Depression
Anorexia
A productive cough
Severe cases may progress to fatal bronchopneumonia in puppies or dogs infected with canine influenza virus.
SPREADING DISEASE
Direct contact (licking, nuzzling)
Indirect (coughing or sneezing)
Contaminated surfaces such as food and water bowls, cages, or human contact
DIAGNOSIS
CIRDC should be suspected whenever the characteristic cough suddenly develops 5–10 days after exposure to other susceptible or affected dogs.
Severity usually diminishes during the first 5 days, but the disease can persist for several weeks. The presumptive diagnosis of CIRDC is usually made from the history and clinical signs and by elimination of other causes of coughing.
Merck Animal Health Vaccines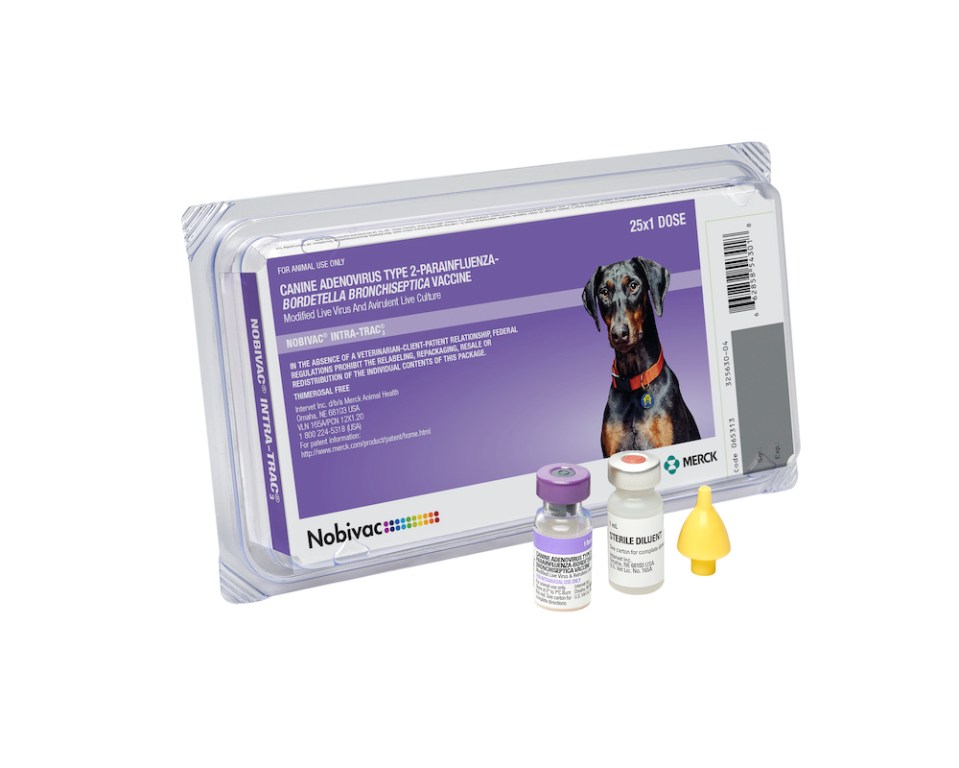 NOBIVAC® INTRA-TRAC®3
This product has been shown to be effective for
vaccination of healthy dogs 3 weeks of age
or older against canine adenovirus type 2, canine
parainfluenza virus and Bordetella bronchiseptica.
ALSO AVAILABLE
Professional Resources and Educational Materials
Keep your clinic and staff informed and aware of diseases and outbreaks.
Addressing CIV in Your Clinic
eBook
Tips and guidelines for your clinic to prevent and manage canine influenza.
Nobivac® Social Media Kits
Digital Assets
Use these ready-to-share posts to educate pet parents and drive business to your clinic for preventative care.
AAHA Canine Vaccination Guidelines
SOP
In-depth information about canine vaccinations and veterinary best practices.